NURPH Shows High Schoolers Top-Level Science
Ahmed Abukar, Warda Aftab, and Andrew Green had the opportunity to perform research in MSE laboratories and participate in materials science tutorials, professional development, and college preparatory workshops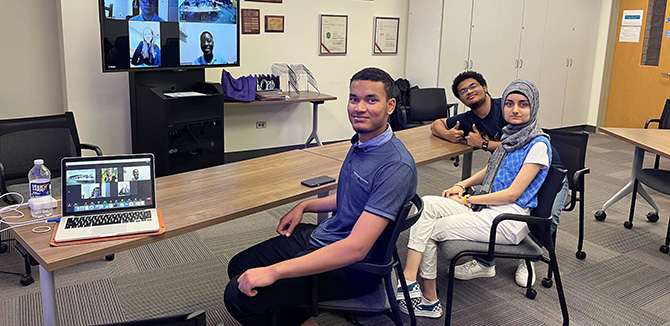 This summer, three high school students from the Chicago Math and Science Academy participated in the inaugural Northwestern University Research Program for High Schoolers (NURPH) developed by MSE graduate students. High schoolers Ahmed Abukar, Warda Aftab, and Andrew Green had the opportunity to perform research in MSE laboratories and participate in materials science tutorials, professional development, and college preparatory workshops.
Students learned materials science fundamentals, implemented research and data analysis techniques, and participated in group meetings. The seven-week program concluded with a poster session where they shared their work with the materials science department, colleagues in their labs, and invited family.
"Best experience of my entire life," Aftab said. "It introduced me to a whole new world that I never knew existed. There are no small contributions in materials science. Everything you do makes a huge impact."
Green was just as enthusiastic.
"NURPH was a very positive experience for me that was very informative. I'm excited to see it expand in the future," Green said.
The program received funding from the National Science Foundation's Materials Research Science and Engineering Centers, and the National Science Foundation's Harnessing the Data Revolution fund.
Faculty advisers included Walter P. Murphy Professor of Materials Science and Engineering Sossina Haile, and assistant professors Ian McCue and Ryan Truby. Haile and Professors Michael Bedzyk and Kenneth Shull hosted participants in their labs, mentored by graduate students Dylan Bardgett (Haile group), David Garcia (Bedzyk group), and Broderick Lewis (Shull group).
The graduate student executive board consisted of Santiago Diaz Arauzo, Hyeonseon Choi, Dalton Cox, Emma Dickinson, Alex Evenchik, Alexander Kane, Sean Koyama, Adam Ladd, Dilara Meli, Mitchell Walker, Lauren Walters, and Louis Wang.