Faculty Directory

Kenneth Shull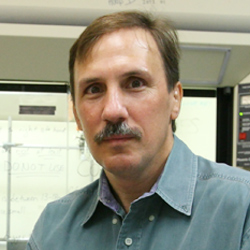 Professor of Materials Science and Engineering
Contact
2220 Campus Drive
Cook Hall 2036; Office - Cook 2083
Evanston, IL 60208
Email

Kenneth Shull
Website
---
Departments
Materials Science and Engineering
---
---
Education
Ph.D. Materials Science, Cornell University, Ithaca, NY
M.S. Electronic Materials, MIT, Cambridge, MA
B.S. Materials Science, MIT, Cambridge, MA
Research Interests
Our focus is on the properties of polymer surfaces and interfaces, with an emphasis on the adhesion of "soft materials." Examples range from traditional pressure-sensitive adhesives (sticky tape) to highly specialized polymeric gels commonly used in biomedical applications.
There is little understanding of the relationship in these systems between polymer adhesion and the structure of the interface on molecular or submolecular scale. We seek to make this connection through studies of well-characterized model systems synthesized in our own lab and through carefully designed fracture mechanics experiments.
Related problems of interest to us include polymer/inorganic composites and the origins of adhesion and mechanical response in biological systems.
Significant Recognition
Fellow, American Physical Society, 2002
NSF Young Investigator Award, 1994–99
Department Teacher of the Year, 1995
McCormick Adviser of the Year, 1998
Selected Publications
Beebe, Jeremy M.; Ahn, Dongchan; Eldred, Donald V.; Fielitz, Alyssa J.; Heyl, Tyler R.; Lee, Myoungbae; Mangold, Shane; Pearce, Eric Z.; Reinhardt, Carl W.; Roggenbuck, Cheryl; Scherzer, Justin M.; Shull, Kenneth R.; Silvaroli, Anthony J.; Tan, Yu Jing; Wang, Muzhou, Photocured Simultaneous and Sequential PDMS/PMMA Interpenetrating Polymer Networks, Macromolecules (2022).
Chen, Qihua; Xu, Shixian; Lu, Ming; Liu, Jia; Shull, Kenneth R., Temperature-Dependent Viscoelastic Energy Dissipation and Fatigue Crack Growth in Filled Silicone Elastomers, ACS Applied Polymer Materials (2021).
dePolo, Gwen; Walton, Marc; Keune, Katrien; Shull, Kenneth R., After the paint has dried, Heritage Science (2021).
Chen, Yuling; Shull, Kenneth R., Processing Polyelectrolyte Complexes with Deep Eutectic Solvents, ACS Macro Letters (2021).
Wang, Ao; Vargas-Lara, Fernando; Younker, Jarod M.; Iyer, Krishnan A.; Shull, Kenneth R.; Keten, Sinan, Quantifying Chemical Composition and Cross-link Effects on EPDM Elastomer Viscoelasticity with Molecular Dynamics, Macromolecules 54(14):6780-6789 (2021).
Chen, Yusu; Wang, Qifeng; Mills, Carolyn E.; Kann, Johanna G.; Shull, Kenneth R.; Tullman-Ercek, Danielle; Wang, Muzhou, High-Throughput Screening Test for Adhesion in Soft Materials Using Centrifugation, ACS Central Science 7(7):1135-1143 (2021).
Eaton, Matthew D.; Domene-López, Daniel; Wang, Qifeng; G. Montalbán, Mercedes; Martin-Gullon, Ignacio; Shull, Kenneth R., Exploring the effect of humidity on thermoplastic starch films using the quartz crystal microbalance, Carbohydrate Polymers 261 (2021).
Eaton, Matthew D.; Brinson, L. Catherine; Shull, Kenneth R., Temperature dependent fracture behavior in model epoxy networks with nanoscale heterogeneity, Polymer 221 (2021).