Faculty Directory

Kenneth Shull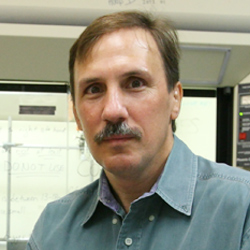 Professor of Materials Science and Engineering
Contact
2220 Campus Drive
Cook Hall 2036; Office - Cook 2083
Evanston, IL 60208
Email

Kenneth Shull
Website
---
Departments
Materials Science and Engineering
---
Education
Ph.D. Materials Science, Cornell University, Ithaca, NY
M.S. Electronic Materials, MIT, Cambridge, MA
B.S. Materials Science, MIT, Cambridge, MA
Research Interests
Our focus is on the properties of polymer surfaces and interfaces, with an emphasis on the adhesion of "soft materials." Examples range from traditional pressure-sensitive adhesives (sticky tape) to highly specialized polymeric gels commonly used in biomedical applications.
There is little understanding of the relationship in these systems between polymer adhesion and the structure of the interface on molecular or submolecular scale. We seek to make this connection through studies of well-characterized model systems synthesized in our own lab and through carefully designed fracture mechanics experiments.
Related problems of interest to us include polymer/inorganic composites and the origins of adhesion and mechanical response in biological systems.
Significant Recognition
Fellow, American Physical Society, 2002
NSF Young Investigator Award, 1994–99
Department Teacher of the Year, 1995
McCormick Adviser of the Year, 1998
Selected Publications
Wang, Qifeng; Griffith, William B.; Einsla, Melinda; Zhang, Sipei; Pacholski, Michaeleen L.; Shull, Kenneth R., Bulk and Interfacial Contributions to the Adhesion of Acrylic Emulsion-Based Pressure-Sensitive Adhesives, Macromolecules
Sturdy, Lauren F.; Wright, Madeleine S.; Yee, Alexander; Casadio, Francesca; Faber, Katherine T.; Shull, Kenneth R., Effects of zinc oxide filler on the curing and mechanical response of alkyd coatings, Polymer
Nagaraj, Rajini; Stack, Trevor; Yi, Sijia; Mathew, Benjamin; Shull, Kenneth R.; Scott, Evan A.; Mathew, Mathew T.; Bijukumar, Divya Rani, High density display of an anti-angiogenic peptide on micelle surfaces enhances their inhibition of αvβ3 integrin-mediated neovascularization in vitro, Nanomaterials
Shull, Kenneth R.; Taghon, Meredith; Wang, Qifeng, Investigations of the high-frequency dynamic properties of polymeric systems with quartz crystal resonators, Biointerphases
Collinson, David W.; Eaton, Matthew D.; Shull, Kenneth R.; Brinson, L Catherine, Deconvolution of Stress Interaction Effects from Atomic Force Spectroscopy Data across Polymer-Particle Interfaces, Macromolecules
Delgado, David E.; Sturdy, Lauren F.; Burkhart, Craig W.; Shull, Kenneth R., Validation of quartz crystal rheometry in the megahertz frequency regime, Journal of Polymer Science, Part B: Polymer Physics
Chen, Yaoyao; Shull, Kenneth R, Thermothickening Behavior of Self-Stabilized Colloids Formed from Associating Polymers, Macromolecules
Sadman, Kazi; Delgado, David E.; Won, Yechan; Wang, Qifeng; Gray, Kimberly A.; Shull, Kenneth R., Versatile and High-Throughput Polyelectrolyte Complex Membranes via Phase Inversion, ACS Applied Materials and Interfaces