Faculty Directory

Ian McCue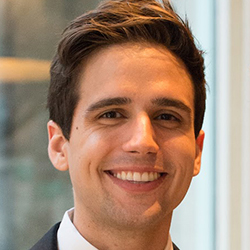 Assistant Professor of Materials Science and Engineering
Morris E. Fine Junior Professor in Materials and Manufacturing
Contact
2220 Campus Drive
Cook 2036
Evanston, IL 60208
Email

Ian McCue
Website
---
Departments
Materials Science and Engineering
---
---
Education
Ph.D. Materials Science and Engineering, Johns Hopkins University, Baltimore, MD
B.S. Materials Science and Engineering, Johns Hopkins University, Baltimore, MD
Research Interests
Ian's research vision is to solve the problem of scalable processing for advanced, nanostructured materials by focusing on advanced manufacturing and self-organization phenomena. We are interested in pushing the boundaries of microstructural control during fabrication to create new materials that are stronger, tougher, more thermally stable, and even capable of repairing themselves. This research is split across several key thrusts: (1) new manufacturing process to create advanced nanocomposites for structural applications; (2) studying the mechanical behavior of nanostructured materials; and (3) advancing the fundamental understanding between material architecture – curvature, microstructural length scale, and composition – diffusion pathways, external fields, and phase transformations.
Significant Recognition
Invited Speaker, Gordon Research Conference – Physical Metallurgy (2019)
Materials Research Society Graduate Student Award, Silver (2014)
Selected Publications
He, Mo Rigen; Banerjee, Arunima; Marvel, Christopher J.; Price, Sam; McCue, Ian; Schwalbach, Edwin J.; Hemker, Kevin J., Strong Impact of Minor Elements on the Microstructural Evolution of an Additively Manufactured Inconel 625 Alloy, Metallurgical and Materials Transactions A: Physical Metallurgy and Materials Science (2022).
Small, Kathryn A.; McCue, Ian D.; Johnston, Katrina S.; Donaldson, Ian; Taheri, Mitra L., Precision Modification of Microstructure and Properties Through Laser Engraving, JOM (2021).
McCue, Ian; Snyder, Joshua, How Can We Efficiently Fabricate Nanostructured Materials with Unprecedented Properties?, Accounts of Materials Research (2021).