Announcements
Julius Lucks, Danielle Tullman-Ercek to Lead Center for Synthetic Biology
Center a catalyst for Northwestern research innovation and impact
Northwestern Engineering's Julius Lucks and Danielle Tullman-Ercek have been named co-directors of Northwestern's Center for Synthetic Biology (CSB).
Lucks and Tullman-Ercek succeed previous director Michael Jewett, Walter P. Murphy Professor of Chemical and Biological Engineering at the McCormick School of Engineering.
Launched in 2016, CSB is part of Northwestern's cross-disciplinary ecosystem of 35 University-wide Research Institutes and Centers (URICs) and has attracted renowned researchers seeking innovative ways to reprogram cells and cellular components to take on new, specialized purposes, such as creating sustainable chemicals or next-generation materials and targeted therapeutics. Today, the center has 21 affiliated faculty members — leaders in physics, engineering, computer science, medicine, social sciences, and more — who have produced a combined seven startup companies in just the past two years.
"The Center for Synthetic Biology at Northwestern is a visible leader in the field, and I am excited to see its impact and distinction grow under Julius and Danielle in the coming years. Their work has led to crucial advances, and I'm confident that trend will continue as they lead the center," said Milan Mrksich, vice president for research at Northwestern, the Henry Wade Rogers Professor of Biomedical Engineering, and CSB's founding director. "As an exemplar of our URIC portfolio, the center will help continue to advance the interdisciplinary research and high-impact translation that thrives at Northwestern."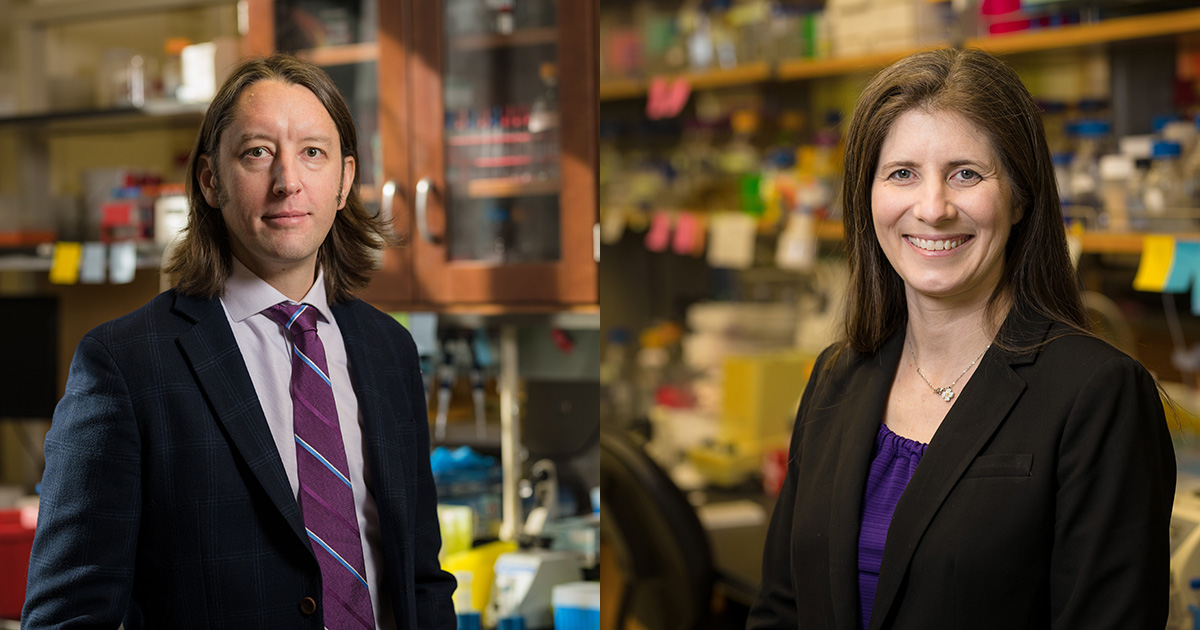 "Since its start in 2016 with just a few committed and ambitious faculty members, the Center for Synthetic Biology has emerged as a pillar of interdisciplinary excellence," said Julio M. Ottino, dean of the McCormick School of Engineering. "From beginnings within engineering, the center has grown to include researchers across the life sciences and beyond and has become a national center of excellence in this emerging field. I am delighted that Julius and Danielle have agreed to lead the center to even higher levels of excellence."
Lucks and Tullman-Ercek, both professors of chemical and biological engineering, were founding members of CSB when they each arrived at Northwestern in 2016.  
Lucks's research has led to fundamental contributions to the understanding of the molecular principles that enable biological systems to sense and adapt to changing environments, and to understanding how these principles can be used to engineer synthetic biological systems that benefit humankind. A focal point of Lucks's work is RNA — a fundamental component of all living systems that enacts genetic, regulatory, and catalytic functions by folding into intricate shapes within cells. In 2022, Lucks and his team applied their discoveries to create a cell-free synthetic biology diagnostic platform called ROSALIND that can measure water quality with a single drop. Lucks also directs the Synthetic Biology Across Scales NSF Research Traineeship (NRT) program, the first NSF NRT program for synthetic biology in the country.
Tullman-Ercek builds biomolecular devices for a wide range of applications in areas from medicine to the environment. Her lab's research focuses on highly organized self-assembling proteins — the nanoscale building blocks of biology. Such systems abound in the living world, and the resulting assemblies govern critical processes at all levels of life, from the formation of virus capsids to the transport of oxygen in the blood. Last year, she led an interdisciplinary team to study how changes in the geometry of bacterial microcompartments can influence their function. Tullman-Ercek also directs the Master of Biotechnology Program in Northwestern Engineering, and the Synthetic Biology Research Experience for Undergraduates program.
"We are excited to lead the Center for Synthetic Biology and continue to expand its impact on translational advances in medicine, sustainability, and education," said Lucks and Tullman-Ercek, in a joint statement. "The first six years have seen incredible progress. We look forward to new opportunities for collaboration and further growth in the years to come."