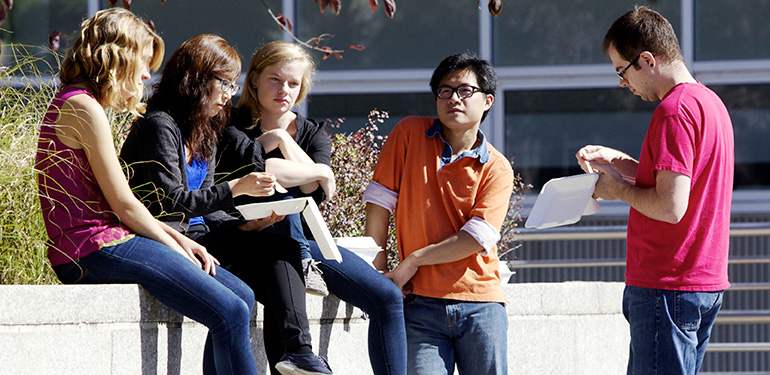 Undergraduate Student Resources
Browse this section to find useful resources for current McCormick undergraduates. You can also browse current student resources for each academic department to get helpful information related to your major or field.
Prospective undergraduates will find helpful information about McCormick's programs in our Academics section.
Jump to a Section
Welcome new students; resources for your first year at McCormick; expectations by quarter; Engineering First® Coursework; information about the McCormick Advising System; and more
Learn more about the support resources available to McCormick undergraduate students, including academic support, accessibility, counseling resources and more.
Browse information and resources on:
advising at McCormick
how to identify advisers for upper-class students
advising for transfer students and study abroad
registration procedures
administrative resources including registration schedule
links to university registrar's office, CAESAR, and the university advising center
frequently asked questions
Additional registration resources include:
Log into the McCormick Advising System
McCormick's position and policies on professional integrity and our academic integrity statement
Location and hours of the Tech Tutoring Program and the subjects covered; other tutoring resources at Northwestern
Download key administrative forms required for successful undergraduate study at McCormick, including:
Declaring or changing your major
Graduation
Credit transfers
Curriculum Petitions
Specialization and electives
Special programs like the Business Enterprise Certificate, Segal Design Certificate, and Departmental Honors
How to fulfill the Theme Requirement; how to choose and declare your theme; frequently asked questions
How to start or continue a student group; Career Development and Northwestern Career Advancement; Study Abroad and Global McCormick; Personal Development; and more.
How to get started on research as an undergraduate; frequently asked questions; summer research programs; available research grants; the McCormick Summer Research Awards; and how to take advantage of the Peer Advising in Research program
Recognitions and awards for undergraduates, including the Dean's List, fellowships, Latin honors, Gotaas Award, Alumni Award, Eshbach Award and the Mickelson Prize
Standards and responsibilities of the engineering profession; how to prepare for the Fundamentals of Engineering (FE) exam; state licensure; engineering societies and ethics; the Order of the Engineer
How to purchase and use MATLAB; additional computer resources like McCormick IT, NUIT, smart classrooms, McCormick computing labs, and more
Current Student Resources by Department