Obtain Industry-Relevant Experience
Explore the topics valued by the robotics industry, such as motion planning, robot kinematics and dynamics, manipulation, and machine learning.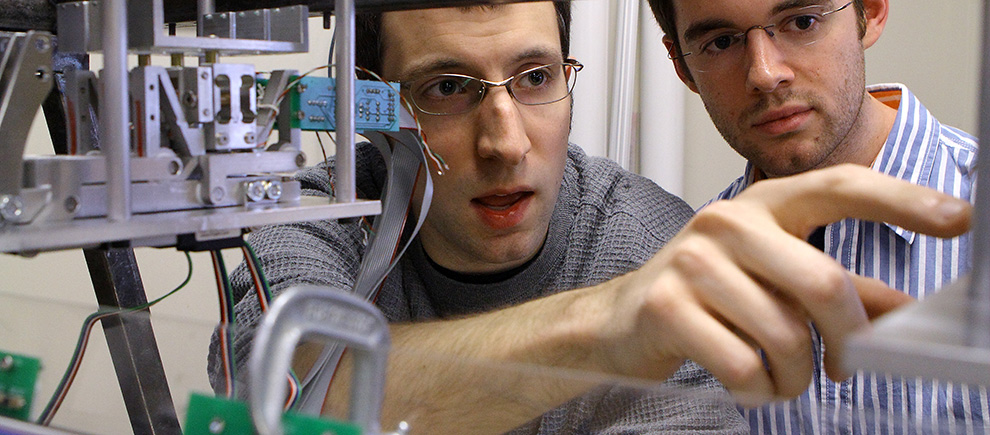 Network in a Small Cohort Setting
The program's small cohort size facilitates direct networking with faculty and industry leaders, and encourages collaboration with classmates.

Explore a Wide Variety of Robotics Fields and Topics
Example project areas include bio-inspired sensing and control, haptics, automatic control, dynamics, swarm robotics, prosthetics, or human-robot interaction.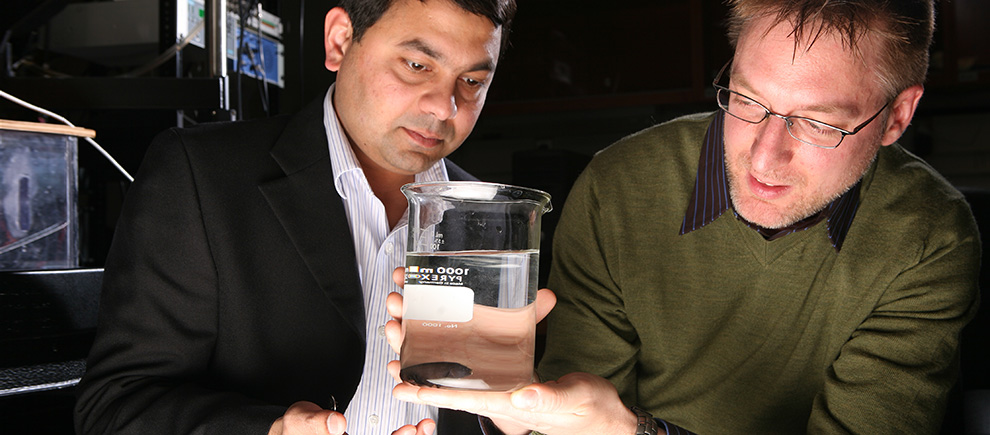 Collaborate with Other Respected Northwestern Research Programs
Projects will be in direct supervision of pre-existing research programs involving departments such as EECS, BME, ME, and Neuroscience. Additional collaborations available at the Shirley Ryan AbilityLab and Kellogg.
Welcome to the

Master of Science in Robotics Program (MSR)

The Master of Science in Robotics (MSR) program at Northwestern University is a one-year, interdepartmental graduate program that equips engineers with the tools to work in the rapidly growing field of robotics.

The goal of this master's program is to provide:
Knowledge and experience in a broad array of concentrations including computer science, mechanical engineering, electrical engineering, biomedical engineering, and mathematics
Support in creating an online project portfolio to showcase projects completed as part of the program
Access to work on projects from leading industrial partners
Opportunities for industrial internships
The Robotics program bridges the knowledge and experience gap between an undergraduate engineering degree and a successful career in the exciting field of robotics.
Learn more about the curriculum
Meet the faculty
Quick Facts
Degree Name

Master of Science in Robotics

Duration

12–15 months, full-time, depending on whether the student does a summer internship

Start Date

September

Program Structure

10 courses during the first three quarters
Completion of a self-proposed project during the winter quarter
In the final quarter students work full-time in a larger scale, faculty-led project
All project work is documented in an online portfolio

Program Features

15–20 person cohort
Faculty-led research work
Faculty from a range of engineering departments and industries

Location

Evanston campus

Cost


$18,744 per quarter, plus cost of living, textbooks, and other miscellaneous fees (academic year 2019-2020)

Application Opens

September 15

Application Deadline

February 15 (recommended)
April 30 (final deadline)

First consideration is given to applications received by the recommended deadline.
Student Profile
Each year, Northwestern welcomes a diverse group of talented students into this competitive cohort-style program, creating a creative and collaborative environment. Students enter the program with a variety of professional and educational backgrounds, but they typically have undergraduate degrees in traditional, robotics-related majors such as Mechanical Engineering, Electrical Engineering, Biomedical Engineering, and Computer Science. Many students come directly from undergraduate programs, but it is not uncommon for students to join after amassing years of work experience in a range of industries.
Learn more about our student body
Why Northwestern University?
The interdepartmental nature of our program exposes students to a broad range of engineering and other disciplines, preparing them for a diverse set of career options. Students in our program enjoy the benefits of:
A small cohort facilitating direct collaboration with faculty and networking opportunities
Faculty from a wide range of backgrounds and disciplines
Collaboration with pre-existing research programs including:

Multiple Northwestern engineering departments
Northwestern's Neuroscience and Robotics Lab (NxR)
Shirley Ryan AbilityLab (formerly the Rehabilitation Institute of Chicago)
Northwestern's Kellogg School of Management

Work on a variety of research projects such as bio-inspired sensing and control, haptics, automatic control, dynamics, swarm robotics, prosthetics, or human-robot interaction
Building experience with implementation of both hardware and software systems
Career Opportunities
Students in the MSR program have an array of career plans after graduation. Some students plan on seeking a robotics-focused job in industry, some are planning on utilizing their MSR experience as a transition into robotics-related PhD research, and others have entrepreneurial plans. In addition to industry networking and internship opportunities available through enrollment in this program, all students have access to Northwestern's robust career services such as the Northwestern Career Advancement office and the Engineering Career Development office.