An Inside Look at Surgical Robotics
Felix Wang discusses his summer internship and the lessons he learned at Auris Health Inc.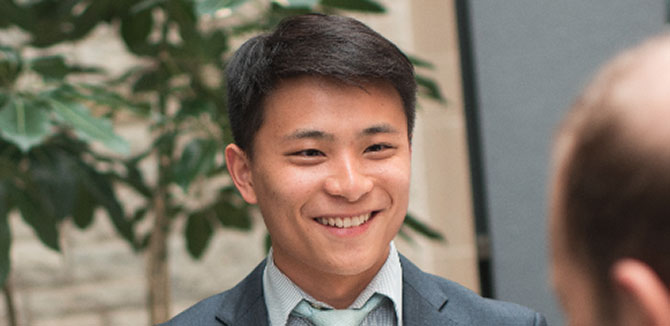 By Felix Wang (MSR '18)
Auris Health Inc. does robotic endoscopy, which means it uses flexible robots to deliver small cameras and tools into natural openings in the body to help with diagnoses. I got a first-hand look at Auris and the work they are doing this past summer as part of an internship during my summer off from Northwestern's Master of Science in Robotics (MSR) program.
Auris' flagship product is the Monarch System, which performs a bronchoscopy to help with lung cancer diagnoses. As part of my internship, I was able to use deep learning for computer vision analysis on the medical images collected through the Monarch System.
Because of the nature of medical device companies, I was able to see a lot of surgical operations on porcine models (live pigs) with the Monarch System to test the robotic applications in a clinical setting. Looking back on the experience, I was able to hone my technical skills and develop a better understanding of the surgical robotics industry.
I think internships are critical because they provide industry experience and can help inform our future interests. In my case, it also allowed me to get my hands dirty with real-world problems.
Potential employers love to see a portfolio of concrete project work, and MSR gives us just that. The project-based nature of the program gives us the chance to take classes and then apply what we learn in practice. Additionally, the flexibility to choose projects based on our interests allows us to build our portfolio in a way that is tailored to the kind of jobs we want to pursue.