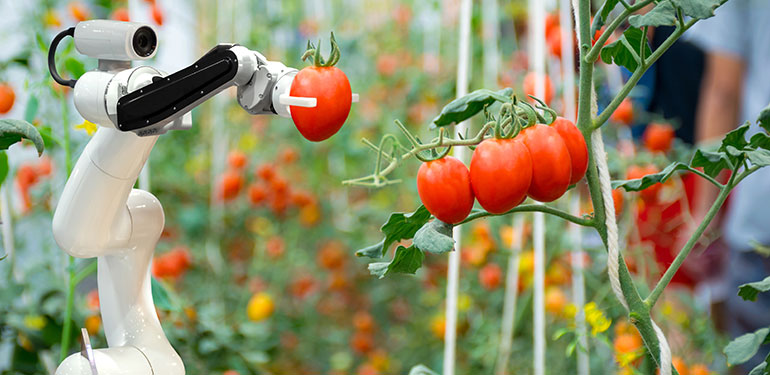 Overview

  /  

Careers in Robotics

Robotics Careers in Food and Agriculture
Robots have the potential to change the way we grow food, making the process more efficient and environmentally friendly. Robots can be deployed to fight pests instead of using pesticides, can reduce waste by harvesting crops at the ideal time, and can replace manual labor for hard-to-pick crops. Robots can also change how we eat food by automating restaurants and perhaps even home-cooking.
How would a roboticist function in this industry?
There are multiple paths for robotics engineers within the food and agriculture industry. Those who design robots for traditional agricultural industries must be able to understand and take advantage of the existing agricultural infrastructure. There are also many agricultural tasks that push the boundaries of what a robot can accomplish, particularly when it comes to picking crops.  Machine learning and artificial intelligence knowledge is crucial to help identify ripe fruit, weeds, and agricultural pests. Finally, indoor agriculture with carefully calibrated growth cycles and monitored crops is another area ready for automation where a roboticist could thrive.
How does MSR prepare students for this field?
Lessons learned throughout the MSR program can be applied to jobs in the food and agriculture industry. The program's location in the American midwest and as the first suburb north of Chicago simultaneously places students in proximity to traditional centers of farming and agricultural equipment manufacturers as well as a thriving restaurant industry.
How is robotics used / applied in this industry?
Automated farm equipment, hydroponics, and urban agriculture are all ways robotics are leveraged in the food and agriculture industries.
Where our students have interned or our alumni have worked
Fifth Season

Peco-InspX

YPC
Featured Alumni

Austin Lawrence
MSR '15, Co-founder, Fifth Season
Austin Lawrence didn't think he knew enough about robotics to get into MSR. He was wrong, and he made it a point to study topics he knew the least about while in the program. That gave him opportunities to experiment in ways he never did befire.
"The project-based curriculum provided the freedom to choose what problems I could solve with robots, be it silly, or serious," Lawrence said. "It was an excellent environment to think entrepreneurially, industrially, or academically, and it totally enabled me to go in any direction."
The direction he chose was to transform modern indoor agriculture. Lawrence co-founded RoBotany (today known as Fifth Season) as a way to use automated robotics and software analytics to create smart, indoor farms that deliver perfect, pure produce no matter the season or location.
Chainatee Tanakulrungson
MSR '18, Quality Assurance Engineer at Peco-InspX
Chainatee Tanakulrungson discovered early in his career that to work with robotics, he would need to blend knowledge from multiple fields. Since graduating from MSR, he's continued to combine interdisciplinary experiences to grow as a developer and an engineer.
Tanakulrungson spent three years working at Olis Robotics (formerly Bluhaptics), where he developed software for a pilot-controlled robot. Now at Peco InspX, he's providing technical assistance to a company known for its advanced technology inspection solutions for the food and beverage industries.
"It is not as easy to control a robot arm as it looks," he said. "Without a true understanding of why the code does what it does, multiple problems might come up later, and it will be harder to find where the problem is."
More in this section