Overview

  /  

Careers in Robotics

Robotics Careers in Aerospace and Exploration
The opportunities for robotics in space exploration are vast, but the risks that come with them are also extensive. While robots can be used to inspect satellites, be used for scientific exploration, and even terrestrial construction, there are a host of challenges that include space radiation, long time-delays in communication, expensive deployments, and most importantly, zero tolerance for failure. The promise and potential of space exploration is aggressively pushing the industry forward, but in order for projects like deploying microsatellites or Mars missions to be executed, robotics will play a major role. 
How would a roboticist function in this industry?
Roboticists in this field will likely work with autonomous robotics because timely communication between a human operator and a robot in space is impossible — as of now it takes several minutes for signals sent from Earth to reach Mars. Roboticists will be working with robots that need to withstand extreme conditions in outer space, and they also will have to be comfortable with stringent reliability and testing requirements. Once a system is deployed into space, it has to work, otherwise the mission is a failure.
How does MSR prepare students for this field?
Success in this field requires detailed knowledge of every aspect of what makes a robot function. Students in MSR learn just that, from low-level hardware up to high-level software. When MSR graduates integrate onto a mission team, they can work in their area of expertise while also understanding what is being invested into all the other pieces of the system.
How is robotics used / applied in this industry?
A range of robotics, including underwater robots, are used as part of the remote exploration of other planets and asteroids.
Where our students have interned or our alumni have worked
Bedrock Ocean Exploration

Boeing

Lockheed Martin

MRI Technologies

Pratt & Whitney
Featured Alumni

Mark Dyehouse
MSR '19, Autonomy Motion Planning (Robotics Software) Engineer, Lockheed Martin
Mark Dyehouse entered his job at Lockheed Martin without much experience working with drones or vehicles in aerospace. What he had was an open mind and a desire to learn — two traits he honed during his time in MSR.
His background was in physics and Chinese studies, but he found his way into computer science and developed an interest in electromechanical systems. Today he's pursuing that passion while having a hand in research and development, implementation, testing, and design for software and systems relating to AI and autonomy for aerial vehicles.
"I had to humble myself and make a lot of mistakes, ask for a lot of help, and sometimes make the same mistakes again," he said, "but sometimes that is what it takes to get comfortable with something new."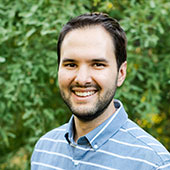 Andrew Warren
MSR '18, Systems Engineer for Raytheon Missiles and Defense
Andrew Warren's work at Raytheon focuses on actuator control systems. Actuators (such as electric motors and hydraulic cylinders) are used to control robot arms, heavy machinery, and flight control systems. 
Warren works with actuators that control the position of fins of a missile throughout an entire flight. In addition to developing algorithms for the actuators, he integrates and tests the actuators with their electrical systems, develops high precision control of a gimbaled seeker system, and creates models and simulations of the systems to predict performance.
"One common misconception about robots is that they can be easily applied to solve any issue," Warren said. "Robotics has come a long way, yet it still takes smart people a lot of time to apply that knowledge to new situations."
More in this section