From Physics and Chinese Studies to Developing Drones
Mark Dyehouse (MSR '19) talks about his nontraditional background and his professional growth thanks to Northwestern Engineering's Master of Science in Robotics (MSR) program.
Mark Dyehouse (MSR '19) graduated from Carnegie Mellon University with a degree in physics and a minor in Chinese studies — not the stereotypical background of someone pursuing a career in robotics. 
While at Carnegie Mellon, Dyehouse discovered a passion for technology and computer science. One of his classes allowed him to design and construct a prototype for an inflatable habitat for plants on Mars. He worked on an experimental project that was to read lips and classify language based on lip movements.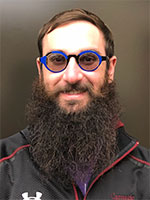 Dyehouse went on to become a software engineer focused on big data and analytics embedded into processing pipelines. He wanted to learn more, though. He decided Northwestern Engineering's Master of Science in Robotics (MSR) was the perfect place for him.
"The combination of projects and coursework along with the portfolio-based deliverables was very attractive to me," Dyehouse said.
Dyehouse is now set to begin a new role as software engineer on the R&D team in the Sikorsky Innovations group of Lockheed Martin. In that position, he will be developing next-generation autonomy solutions for Sikorsky helicopters. 
Before starting his new job, Dyehouse took time to reflect on his unique background, his experience in MSR, and how he plans on applying the knowledge learned in MSR to his new job.  
What are your roles and responsibilities going to be in your new job?
Although the title is "software engineer," the actual work will range from embedded systems development to higher level path planning algorithms, including everything in between.
You have a unique background with an undergraduate major in physics and a minor in Chinese studies​. What were your original professional plans after studying those respective interest areas?
My original professional plans were a bit nebulous when I was in my first couple years of physics and Chinese studies. I figured I would go to physics grad school and perhaps focus on astrophysics or cosmology. However, as I delved deeper into computer science and expanded my boundaries with projects and other non-traditional coursework, my fascination in electromechanical systems found roots.
How did the Martian gardening project you did at Carnegie Mellon impact your decision to pursue robotics?
One of those non-traditional courses I mentioned above was a project working with a large group of students and collaborators in which we developed prototypes for a closed-loop habitat for plants which was designed specifically for the Martian surface. Exploring the challenges of that system's success opened my mind to all the different individual components that need to work together in order to make something like that succeed. I found that I was most interested in the problems that would most likely require some sort of robotic solution — things such as robotic pollination systems and resource allocation and distribution mechanisms.
What did you learn from the experimental projects you worked on after the Mars project?
Most of what I learned was how to approach different problems that may be anywhere on the spectrum of solvable, especially in the realm of electromechanical systems and/or software systems. It is incredibly valuable, I think, to be able to approach different types of problems that at first glance do not look like anything you have seen before.
What was it about the MSR program specifically that appealed to you?
The other programs I was considering base themselves in more traditional coursework, and I decided that MSR would allow me an opportunity to develop myself along multiple fronts and end up with the skills to show what I can do.
How would you describe your MSR experience?
My MSR experience is something that at this point in my life seems integral to my general experience. It intertwines with who I was before, and it helped me find who I am. In other words, in retrospect, I could not see how any other move would have been better for me. It was a lot of hard work, and there were many opportunities to seek out new experiences. What sticks out in my mind is the freedom to pursue ideas and projects with the encouragement and support from my peers and colleagues along with the faculty.
In 2018, you and your teammates took first place in a Northwestern robotics competition called Drawing with Sawyer. What did you learn from that project?
The most important thing I got out of the Drawing with Sawyer project was the experience of working with full-scale robots. There is a lot you can learn without having the robot there to physically work with; however, once you are on the system, it's a different story. It was the beginning of my journey in hardware and systems debugging that would carry me through later projects, and the joy we felt when we saw the system actually moving along correct trajectories made up for every stressful debugging session.
What were the biggest challenges you faced in the program, particularly given that you may not have come in with the same type of technical background as some of your classmates?
The biggest challenge for me was learning how to learn about hardware and electromechanical systems. My background had been both pure software and pure theory, so this was my big blind spot. I had to humble myself and make a lot of mistakes, ask for a lot of help, and sometimes make the same mistakes again, but sometimes that is what it takes to get comfortable with something new.
What would you say it takes to succeed in the MSR program?
I think success in MSR requires a few things: 
The ability to approach a complex challenge and break it down into solvable chunks 
The willingness to collaborate and work with teammates from sometimes drastically different backgrounds
A hunger or passion for something in the robotics realm. 
As for that last point, I don't think you need to know exactly what it is that you want within the space of robotics when you get in, but it helps a lot if you have something that you yearn to do or that passion tugging at you when you find yourself hitting a wall on a project.
How do you think you'll be able to apply the lessons you learned in MSR to your day-to-day professional activities moving forward?
The lessons I have learned will certainly carry over to my professional life, because I will have a lot of questions and a lot of learning to do. I haven't worked with drones or vehicles in aerospace before, so the learning curve will be steep. That just means that it is an opportunity, and I will need to constantly be using my experiences working across the technology stack to design and develop informed solutions. I think that is a benefit for me since my background includes a variety of experiences.
Is there anything else you'd like to add?
I think that the MSR program greatly rewards those who seek out more. It is an excellent opportunity to explore all types and parts of robotic system development, and the people in the program support you in going as far as you want to go.