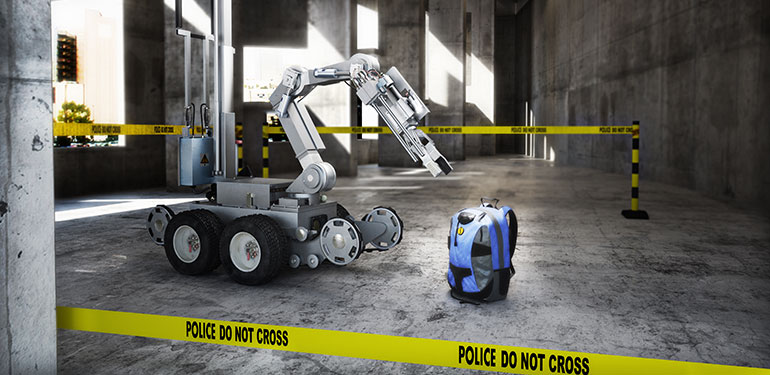 Overview

  /  

Careers in Robotics

Robotics Careers in Security
Security robots often interact with humans or are deployed in response to a disaster. In search-and-rescue operations, security robots are typically deployed in novel and high-stress situations where human safety is at stake, communication networks are unreliable, and the built environment has been significantly altered. Humans in the environment will also be under stress, responding in unanticipated ways, which requires an increased amount of flexibility and customizability for the robotic systems.
How would a roboticst function in this industry?
Robotics engineers who work in the security field tend to focus on either drones, legged robots, or mobile robots. Each of these has their own inherent challenges, particularly mobile robots, which could be used for both indoor and outdoor terrain, but there are other issues and skill sets to be aware of when it comes to working in security. First and foremost, engineers have to understand the needs of first-responders and those who work in the security industry. Telerobotics is an important aspect of this industry, as humans are often the experts at high-level planning. As security robotics become more autonomous, the engineers behind the robotics will grapple with ethical issues that may come up as robots interface with humans in rescue or security situations.
How does MSR prepare students for this field?
Deploying security robots can also involve a number of ethical decisions, from how to collect and store surveillance data to assessment of human safety. In MSR, students learn technical skills while also exploring ethical issues facing the field. The small and diverse cohort in MSR makes it possible for students to have meaningful and thoughtful discussions about ethical issues in robotics.
How is robotics used / applied in this industry?
When it comes to security, robotics are often implemented through the use of safety-patrol robots, search-and-rescue robots, and drones.
Where our students have interned or our alumni have worked
HDT Global

Intelligent Automation

Lockheed Martin

Northrop Grumman

Raytheon
Featured Alumni

Josh Marino
MSR '15, Robotics engineer, Intelligent Automation, Inc. (IAI)
Josh Marino began his MSR experience not knowing what robotics discipline interested him the most. By the time he graduated, he identified a passion for manipulation and controls.
Today, he incorporates the lessons he learned in MSR to his work as Intelligent Automation, Inc., where he and his colleagues specialize in providing advanced technology solutions and services to corporations and federal agencies throughout the United States.
MSR helped Marino get comfortable using Robot Operating System (ROS), and he brought that knowledge to IAI, where he became the first person to use ROS for a major project. Since then, IAI has used it on multiple projects.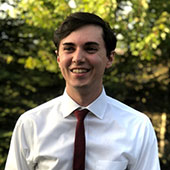 Michael Rencheck
MSR '20, Robotics engineer at Boston Dynamics
Michael Rencheck joked that it's easy to imagine how security companies incorporating robotics could create a dystopian, oppressive future. He just doesn't believe that future is reality.
Rencheck, who spent nearly a year working as an autonomy engineer at Performance Drone Works, said the majority of robotics applications within the security space deal with intelligence gathering. His belief is that security companies will become more interested in autonomous operation so humans can focus more on the intel being gathered or other tasks altogether. Working with robotics in security does add an added pressure, as he felt during his time working on security drones.
"These drones will be used in high-risk scenarios for reconnaissance and if the product is not flawless, it could easily result in increased risk to the unit," he said. "People will be depending on the products for their safety, so the drone function must be up to the task."
More in this section