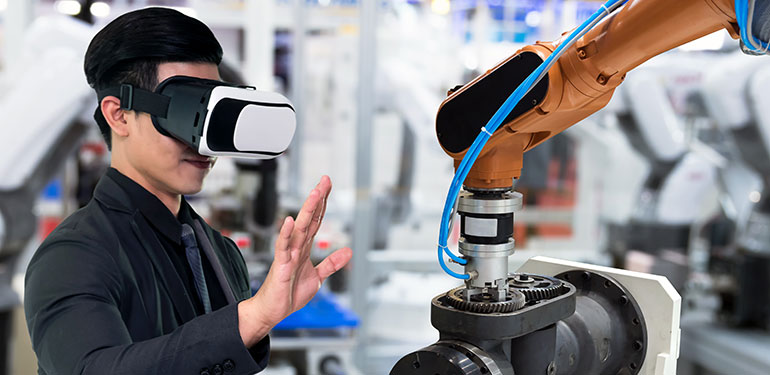 Overview

  /  

Careers in Robotics

Robotics Careers in Innovation
Robotics as an industry has evolved year after year, but robots are still a long way from achieving human levels of autonomy or dexterity. Researchers around the world continue to find new and exciting ways to help the field grow — to the point where robots can now take literal leaps and bounds, a task that as little as 10 years ago was impossible. This field moves quickly and new companies are constantly sprouting up to take advantage of new technology. Those that succeed have the potential to change the world.
How would a roboticist function in this industry?
Engineers in this field need to constantly adapt to state-of-the-art techniques, while also practicing the art of patience. Creating something new takes time, and while this work often is made up of part research and part development, newly developed robots may take years before becoming a product. While innovation is required in all fields of robotics, many tasks requiring dexterity, agility, and intelligence — or combinations thereof — seem just around the corner, though more exploration is needed before for these tasks to be relied on more broadly.
How does MSR prepare students for this field?
MSR students are immersed in cutting-edge robotics research from the moment they arrive on campus thanks to the Center for Robotics and Biosystems. The final project MSR students complete provides an opportunity to work on challenging research projects to advance individual and collective knowledge in this ever-growing field.
How is robotics used / applied in this industry?
When it comes to working in innovation, roboticists are often working with pre-industry robots. An ability to identify existing physical or social challenges and use robotics to solve the challenge in a practical way is crucial.
Where our students have interned or our alumni have worked
Boston Dynamics

Bühler Group

Disney Research

Olis Robotics

PickNick

Robotics Unlimited

Trossen Robotics

Start-ups
Featured Alumni

Dorian Kusznir
MSR ' 17, Digital engineering manager, Bühler Group
Two billion people consume foods made with Bühler Group processes on a daily basis, and half of new cars worldwide include die-cast components produced with Bühler technology.
As a member of the company's digital services team, Dorian Kusznir manages everything from sensors to cloud to ensure the company equips its machines with the appropriate technology to efficiently and securely achieve its goals.
In his role, Kusznir benefits from the problem-solving and systems-level approaches he learned in MSR. "I have to look at things from a high-level perspective while also taking into account the business and strategy impact that my decisions make on the broader organization."
Mario Sebasco
MSR '17, Robotics engineer at HDT Global
It takes an innovative mindset to produce state-of-the-art, deployable solutions like shelters, generators, and air filtration devices. Mario Sebasco already had that mindset when he joined HDT Global, now he continues to strengthen it.
At HDT Global, Sebasco works on several innovative projects. Most of his time is spent developing autonomy for a rugged, load-carrying vehicle that could be implemented for farmland applications. On a day-to-day basis, he writes software and tests it in simulation, integrates it with hardware, and debugs electrical or mechanical issues.
"I apply much of what I learned in the MSR program on a daily basis," he said. "I would definitely not be doing what I do today were it not for the MSR program and all the projects we worked on."
More in this section