Creating Innovations to Help Feed the World
Dorian Kusznir (MSR '17) shares how his time in Northwestern Engineering's Master of Science in Robotics (MSR) influences his current role as Digital Engineering Manager at Bühler Group.
From an early age, Dorian Kusznir (MSR '17) has been interested in using technology to solve problems. In high school, he took advanced computer science courses like AP Java Programming with the thought that it could be useful later on in his career.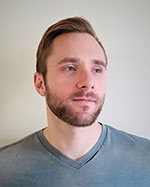 Today, Kusznir is following his passion at Bühler Group, a 160-year-old Swiss engineering and technology company that focuses on food processing and advanced materials. The company strives to create innovations for a better world, Kusznir said, with a special focus on healthy, safe, and sustainable solutions. 
"Every day, billions of people come into contact with Bühler technologies to cover their basic needs for food and mobility," he said, "including your smartphone, solar panels, diapers, lipstick, banknotes, food, and vehicles." 
As Digital Engineering Manager, Kusznir leads engineering efforts for the company's Digital Services team. He recently took some time to explain what his team does, his experience in Northwestern Engineering's Master of Science in Robotics (MSR) program, and how he uses the lessons he learned in the program to help his company continue to innovate. 
How do you like to describe your role and responsibilities at Bühler Group?
Our Digital Services team focuses on blending IoT (Internet of Things) technology and traditional services to provide our customers with actionable data and insights. From a technical perspective, I manage everything from sensors to cloud and ensure that we equip our machines with the appropriate technology to efficiently and securely achieve our goals. We also incorporate controls and data science into our solution offerings. Last year, I led the project development and pilot implementation of a predictive moisture control algorithm that combines traditional controls and machine learning to improve accuracy, stability, and reliability. 
I also work closely with our North American Innovation Director to collaborate with startups, venture funds, incubators, and accelerators to help drive the Bühler Group's vision to feed the world by 2050. Following MSR, I participated in a venture capital fellowship at Purple Arch Ventures, a private, for-profit fund managed by Northwestern alums that invests in Northwestern alumni-led companies. It was an excellent program that gave me an opportunity to build my network and learn even more about investing, venture fund management, and entrepreneurship. It transitions well into innovation.
What was it about the robotics field that appealed to you?
Robotics is a unique field because it combines many disciplines: mechanical, electrical, biomedical engineering, and computer science. We can even extend it to include non-engineering roles such as neuroscience, psychology, and biology. I prefer to look at things from a systems-level, big-picture perspective and wanted to touch on every primary technology involved in building a robotic system or device.
You also have degrees in business and healthcare policy​, so what were your original professional plans after receiving each of those degrees? 
I originally wanted to go into medicine, hence the healthcare degree. I did prepare myself during and after undergrad for a potential switch into a technical role and learned the foundational engineering and mathematics topics that would help with this transition.
Before Northwestern, you worked at a healthcare startup called CareCloud. How did your time there influence your decision to go into robotics? 
I started as a project manager and transitioned quickly into more technical roles, eventually leading an engineering team within the software group. During that time, robotic medical devices and wearables were gaining traction, further piquing my interest in technical devices and solutions. I was particularly interested in a systems-level approach to problems and the complexities involved when combining hardware and software to solve a problem.
What was it about the MSR program specifically that appealed to you?
Northwestern is one of the best universities in the world with a highly successful alumni network. In addition, I liked the small cohort size and diversity amongst the students. What sealed it was my admissions video interview. The energy and enthusiasm from the program were contagious and I immediately knew that this was the best program for me.
What would you say it takes to succeed in the MSR program? 
As any highly technical and fast-paced program, MSR was certainly challenging. Building robots is hard. I would say determination, time management, and resourcefulness are the three most important factors to succeed in the MSR program. Thankfully, Northwestern provides many resources that MSR students can take advantage of. 
How would you describe your MSR experience?
Challenging and fulfilling. I feel that MSR provided a great foundation from which to build upon. MSR is a team-oriented, project-focused program that allows students to develop real-world skills and improve problem-solving capabilities.
I came in with a strong software and programming background and this helped tremendously, since overcoming a programming deficiency can be a challenge, especially within a short timeframe. I also already had a strong mathematical background and took the time to learn the fundamental engineering topics prior to starting the program. 
I would say the biggest challenge was the transition from industry into an accelerated Master's program. I think my fellow MSR alumni will agree that the first quarter is intense, as it is a crash-course introduction to robotics fundamentals.  
How are you able to incorporate the lessons you learned in the program to your job today?
Certainly, the problem-solving disciplines and systems-level approach are critical aspects in my daily job responsibilities. I have to look at things from a high-level perspective, while also taking into account the business and strategy impact that my decisions make on the broader organization. I am very much involved in automation, software development, and data science, all of which incorporate topics that I was introduced to through MSR.