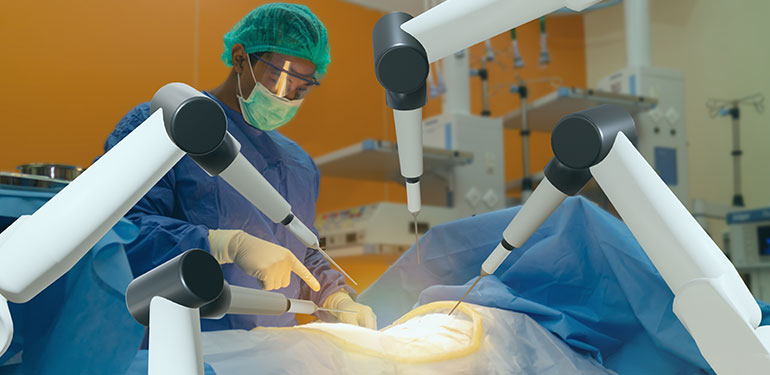 Overview

  /  

Careers in Robotics

Robotics Careers in Medicine and Health
Healthcare is a major slice of the economy, and robotics will play an increasing role in the coming decades. The trend of ageing populations and shortages of medical professionals means that the need for care-taking robots grows every year. Additionally, robotic techniques help create smarter and more useful prosthetics, aid in rehabilitation, and enhance human motion. Surgeries assisted by robots can also be less invasive, more successful, and require less recovery time.
How would a roboticist function in this industry?
In this field, roboticists and clinicians interact to help improve health outcomes for patients. Robots are used to help patients during the rehabilitation process or, where injury is currently more permanent, help withday-to-day life activities. Surgical robots help physicians carry out complex operations more safely and effectively. In this field a roboticist must be truly interdisciplinary in order to understand the needs of patients and doctors.
How does MSR prepare students for this field?
The MSR program has partnerships with the Shirley Ryan Ability Lab — a world-renowned rehabilitation institute — and Northwestern's Feinberg School of Medicine. These connections allow our students to work on medical robotics projects with clinical relevance throughout their time in the program.
How is robotics used / applied to this industry?
Robotics are increasingly being used in new ways within the medical and health fields, from surgical robots and exoskeletons to rehabilitation robotics and ones used for remote monitoring and diagnosis.
Where our students have interned or our alumni have worked
Applied Dexterity
Auris Health
Diligent Robotics
Grifols
IntuiTap Medical
Life Fitness
Shirley Ryan AbilityLab
Stryker
Featured Alumni

Lauren Hutson
Alumna '18, Robotic software engineer, Diligent Robotics
While preparing to graduate from MSR in 2018, Lauren Hutson was set on finding a job that allowed her to use her expertise to directly — and meaningfully — help people. She met this goal by joining Diligent Robotics, an artificial intelligence company that creates robot assistants.
Designed to aid healthcare workers with routine tasks like gathering patient supplies, distributing personal protective equipment (PPE), collecting items from central supply, and delivering lab samples and medications, Dilligent's robots subsequently allow healthcare personnel to focus more on patient care. In her role as a robotic software engineer, Hutson helps design and maintain a robot's core features and supports the operations team when something goes wrong.
She routinely finds herself relying on lessons learned during her time in MSR like learning about kinematics which she finds valuable when evaluating navigation stacks or creating features within the company's manipulation pipeline. Hudson also learned how to debug ROS, an enormous advantage when trying to solve issues that appear onsite. "We use ROS every day, so already being familiar helped me jump right into doing more interesting work," she said.

Mahdieh Nejati Javaremi
(MSR '15), Graduate Research Assistant at Shirley Ryan AbilityLab
Mahdieh Nejati Javaremi's interest in robotics stemmed from a passion for assistive robots. Her interest led her to work on a smart wheelchair that was retrofitted with a computer and a collection of sensors. That work ultimately led to a ramp detection algorithm that can now be used in a lab filled with ramps, drop offs, and other obstacles for the wheelchair to navigate.
"The main goal was to provide assistance in a shared, controlled way," Javaremi said. "To do that, the robot needs to be able to understand its surroundings."
That project ultimately led her down a path to a PhD and work at the Shirley Ryan AbilityLab, where as a doctoral candidate, her research is advancing the field of rehabilitation robotics.
More in this section