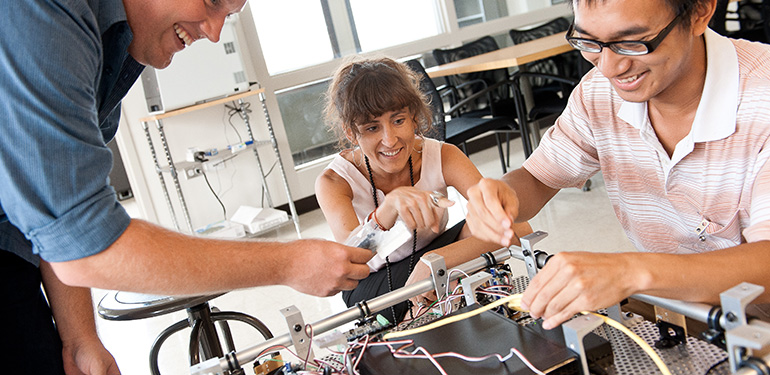 Program Overview
An interdepartmental program, the Master of Science in Robotics (MSR) is a 12-15 month, full-time graduate program that equips students with the tools required of a robotics engineer. Robotics is a cutting-edge field that is forecasted to grow substantially over the next 20 years. It is also a broad field requiring engineers to have expertise in computer science, mechanical engineering, electrical engineering, biomedical engineering, and mathematics. However, most undergraduate programs focus on only one of these areas. This program is designed to provide intense, hands-on training to bridge the knowledge and experience gap between an undergraduate engineering degree and a career in robotics.
Jump to a Section
Duration
The MSR program requires four quarters of four courses each. The program can be completed in 12 months. Students who choose to participate in a summer internship can complete the program in 15 months.
See an at-a-glance program schedule
The Cohort Model
The program operates following a cohort model, in which all of the students begin the program in the fall, and then work closely with each other and faculty on coursework, projects, and professional development.
Benefits of the cohort model
The program is able to adapt to the individual interests and needs of each of the students while appropriately matching students with projects based on their interests and skills.
Having a small group who are all on the same schedule allows the MSR directors to have weekly meetings with the cohort focused on developing both professional and technical skills.
Students build a strong professional network with their peers while in the program.
The cohort model also helps to foster positive social interactions. Some cohorts have held weekly, self-organized meetings in which the students give presentations aimed at educating their peers about their life experiences and areas of expertise. The cohort has organized intramural sports teams and a range of other extracurricular activities in and around Evanston and Chicago.
Who Should Apply
The program is aimed at outstanding students who have already completed a bachelor of science in engineering or a related field and are seeking a career in robotics. While some students enter the program with years of work experience in a range of industries, many students join directly after finishing their undergraduate education. Possible undergraduate majors include computer science, as well as mechanical, electrical, or biomedical engineering. Students are strongly encouraged, but not required, to have programming experience in C, C++, and Python prior to enrolling. Programming experience will facilitate participation in upper-division courses in the Department of Computer Science that have programming prerequisites. Students with less programming background will be presented with supplementary instruction during the fall term.
Learn more about the typical student profile
Curriculum
The program features a combination of traditional courses and in-depth, project-based work.
Course Subject Areas
automatic control
kinematics and dynamics
machine learning
path planning
human-machine interfaces
biomedical engineering
neuroscience
robotic rehabilitation
prosthetics
Robotics Research Projects
The program features a series of open-ended, project-oriented experiences provided by faculty-led, independent research work and through courses such as Embedded Systems in Robotics. Students will have the opportunity to participate in a diverse set of robotics research projects with faculty from all over Northwestern, in addition to working with the Center for Robotics and Biosystems, a world leader in robotics, haptic interfaces, and biomedical engineering. Project areas include multi-robot systems, robotic manipulation, haptics, simulation and control of multibody systems, swarm robotics, bio-inspired sensing and control, and prosthetics engineering.
Learn more about project requirements
Industrial Collaboration and Internships
Industrial ties are an essential part of the program. The program features seminars, networking events, and projects from leading industrial partners. Additionally students are encouraged to participate in industrial internships.
Project Portfolios
Students create an online project portfolio detailing the projects they complete as part of the program. These portfolios may be used for evaluating student performance in courses, and provide the student with an ideal tool to showcase their work for potential employers or PhD schools.
View our student's project portfolios
Faculty
The faculty associated with the MSR program come from a range of departments at Northwestern and are active in relevant areas such as machine learning, haptics, simulation, control, rehabilitation robotics, and bio-inspired robotics. The faculty both teach program courses and act as potential advisers for the Final Project.
Career Opportunities
Students and alumni from the program have been hired for internships and full-time positions across a wide array of companies, including: Intelligent Automation, Leidos Rehabilitation Institute of Chicago, Auris Surgical Robotics, DMC Inc., Applied Dexterity, Life Fitness, Zoox, Harman Kardon, Robotics Unlimited, Disney Research, Grifols Engineering, Honda Research Institute, Whirlpool, Pratt & Whitney, Doxel.ai, Daimler, Olis Robotics, Bühler Aeroglide, Luminar Technologies, BITO Robotics, Fusion OEM, Raytheon, BMW, Omron Automation, Siemens, 3M, Colgate-Palmolive, Trossen Robotics, Berkshire Grey, and Fetch Robotics.
Others have chosen to continue their education by pursuing a PhD and have been admitted to schools such as University of Michigan, Virginia Tech, MIT, Cornell University, and Northwestern University.
Entrepreneurial MSR students have founded or been involved in the founding of several startup companies while at Northwestern, and others have been hired by external startups.
In addition to industry networking and internship opportunities available through enrollment in MSR, all students have access to Northwestern's robust career services such as the Northwestern Career Advancement office and the Engineering Career Development office.
More in this section