The Road to Amazon Robotics
Ashlee Tiwari fielded job offers from some of the country's top technology companies; her time in the MSR program helped make her choice obvious.
Ashlee Tiwari (MSR '22) was in an enviable position earlier this year as she neared graduation from Northwestern Engineering's Master of Science in Robotics (MSR) program. 
A who's who of technology companies – Accel Robotics, Apple, Meta, and Tesla, among them – were wooing her with attractive job offers, their interest piqued in part by her online MSR portfolio that detailed her work on innovative projects and showcased her growing skillset.
It was Tiwari's journey through the MSR program that ultimately helped make Amazon Robotics her clear choice.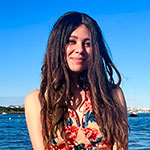 "Initially, I wasn't sure in which domain of robotics I wanted to work in — mechanical, embedded, biorobotics, aerial, or artificial intelligence and machine learning," she said. "By the end of each quarter, it got more clear to me which area I was really interested in." 
Hands-on projects gave her a better understanding of what types of tasks she might work on professionally. As graduation neared and the job offers came in, Tiwari said the road she'd traveled made the destination clear. 
"The MSR program focuses on preparing students to take a leading role in the research and development of future generations of integrated robotics technologies and systems," she said. "My role (at Amazon Robotics) is very close to the kind of work that I wanted to do."
Tiwari is now a software development engineer on the autonomous mobility team and is based in Boston. Her mission with Amazon Robotics is to help create the next generation of robots that will more seamlessly and safely move products around the people inside the company's fulfillment centers.  
"The thing that really excites me is that I am working on a product that has a huge impact in the production area," she said. "(It will) make it easier for the warehouse workers to work with the next generation of robots at Amazon." 
Inside all Amazon warehouses is a mix of humans and machines. Miles of conveyor belts bring products in and move them to where employees stow them in huge bins. Autonomous robots bring the right bin to employees and then take it back to a precise position inside a massive, fenced-off area of the warehouse.  
If Tiwari and the Amazon Robotics team are successful, robots and humans will be more closely integrated on the warehouse floor. 
While Tiwari has her eyes on big goals, she remains equally focused on the minute details needed to get there. One of the most valuable lessons she took away from her time in MSR came from associate director and assistant professor Matt Elwin.
"The most important lesson for me was learning coding style and documenting my work," she said. "It's very important in companies like Amazon. Not only would (Elwin) look over your code to make sure that it worked, he would take off points if code was hard to read or poorly documented."
"Something that has stuck in my mind since then is the quality of your code is not just in its execution." 
Tiwari was able to quickly adjust to her role at Amazon Robotics because of the way the MSR program is set up, she said, and what she learned is relevant to her role with the company. 
"The MSR program is intense, so it made me accustomed to a fast-paced environment," she said. "Most of the things that I learned in my masters, I am using them in my work too."