Using Robotics to Solve Farms' Labor Shortage
Yael Ben Shalom (MSR '21) talked about her summer internship with Augean Robotics and how the hands-on curriculum of Northwestern Engineering's Master of Science in Robotics (MSR) program prepared her to take a system from idea to proof of concept.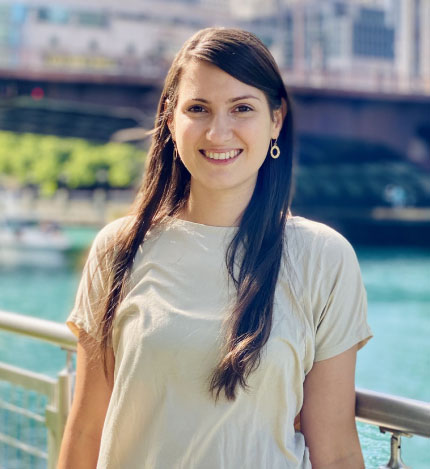 Yael Ben Shalom (MSR '21) experienced what she called "a crash course in robotics" during her first three quarters in Northwestern Engineering's Master of Science in Robotics (MSR) program, and was excited to apply the lessons she learned to a real-world situation. 
She ultimately did that — and more. 
Ben Shalom spent her summer as a robotics software engineer at Augean Robotics (Burro), an agricultural robotics start-up that is designing a collaborative mobile robot for vineyards and agriculture settings. U.S. Bureau of Labor statistics estimate that the employment of agricultural workers will only increase by 1 percent from 2019 to 2029, a rate slower than the average of any other occupation.[1] The company's robots, called Burros, are meant to operate alongside field workers to increase productivity and help solve the labor shortage on farms.   
"The robots are designed as a plug-and-play system," Ben Shalom said, "meaning they can operate in different fields without any pre-programming, and they are easy to use." 
During her internship, Ben Shalom was tasked with developing new features for the robot's autonomy stack and dexterity. Her first project involved using sensor data and path-planning algorithms to develop real-time obstacle avoidance behaviors. She later worked on developing an autonomous robotic arm for grape harvesting, which included integrating the computer vision pipeline — used for grape detection — with a robot arm in order to pick grapes while also managing failure situations.
It was this later project that ultimately was the most memorable for her, due to the need for her work to be tested in the field prior to the end of the grape season.
"I had the chance to be involved in the development of the autonomous grape picking system from an idea to a proof of concept," she said, "and I was delighted that after working around the clock and using some creative ideas, the team and I were able to meet our deadlines before my internship ended."
Ben Shalom took the system from idea to proof of concept thanks to her experience in MSR. Over her first three quarters, Ben Shalom worked on multiple projects that involved motion planning, SLAM, machine learning, and computer vision on robotic arms and mobile autonomous robots. 
"The different projects helped me become more prepared for the diverse set of challenges I faced at Burro," she said. "MSR's hands-on approach and project-based program helped me gain practical robotics experience, and those projects taught me new approaches that I used throughout my internship." 
MSR taught Ben Shalom the tactical skills necessary to succeed at Burro, but she also learned the importance of stepping back to understand how her work contributes to a larger project. She saw that firsthand this summer, and it ultimately was the most important lesson she took away from her internship.
"As roboticists, we are not only required to know how to code," Ben Shalom said. "We often need to understand how the robotics system works, recognize hardware failures, and consider the mechanical constraints while trying to meet the customer demands. At Burro, I had the chance to be a programmer, review mechanical designs, fix electronic malfunctions, manufacture the robots, and hear about bugs directly from the people in the field. Those experiences will be valuable in every project I face in the future."