Honors and Awards
Ankenman, Wicks Receive 2022 Meshii Awards
The award honors excellence in design education
Northwestern Engineering's Bruce Ankenman and Jim Wicks are the 2022 recipients of the Masahiro and Eiko Meshii Award. The honor recognizes faculty members for excellence in design education.
The award was donated by the family of emeritus faculty member Masahiro "Mike" Meshii (PhD '59), who helped develop and teach the first-year design curriculum, including Design Thinking and Communication, the two-course sequence for first-year engineering students that embeds communication instruction in the context of design.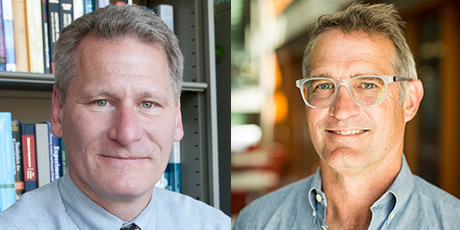 "I am thrilled to recognize Bruce Ankenman and Jim Wicks for their strong commitment to design education with the Meshii award," said Julio M. Ottino, dean of the McCormick School of Engineering and Applied Science. "Jim and Bruce showcase how pivotal design education is to McCormick's vision. Design and design thinking – in all their different forms – are key to the success of Northwestern Engineering and its students."
Ankenman, professor of industrial engineering and management sciences, is the administration and operations lead of the Segal Design Institute, cofounder of DSGN 300: Designing Your Life, and a faculty member at Northwestern's Master of Engineering Management program. His research seeks to develop simple-to-use, yet statistically powerful tools for the design and analysis of both physical and simulation-based experiments. 
Along with Joseph Holtgreive, assistant dean for undergraduate engineering, Ankenman is codirector of the newly created Northwestern Engineering Personal Development StudioLab.
Wicks, clinical professor at Segal, directs the Master of Product Design and Development Management (MPD2) program and is the codirector of the Engineering Design Innovation program with Amy O'Keefe. Prior to joining Northwestern, Wicks spent more than 25 years in leading-edge consumer technology markets. At Sony, he helped develop the first digital cameras in the 1980s. At Motorola, Wicks and his team conceptualized and created such devices as the Moto 360, DROID franchise, RAZR, ROKR, and MING series.
Credited with more than 40 design and utility patents, Wicks and his teams have received multiple global design awards from notable institutions as IF, Red Dot, IDSA, IDEA, Good Design, BusinessWeek Design of the Decade, and the Catalyst awards.
Past recipients of the Meshii Award include Matthew Glucksberg and David Gatchell (2020), Elizabeth Gerber (2018), and Greg Holderfield (2016).