Announcements
Design for America Now Part of the Watson Foundation
National social impact network was founded at Northwestern in 2009
Design for America (DFA), the national social impact network started at Northwestern Engineering that uses design thinking to tackle social challenges, is now part of the Watson Foundation. The transition became effective September 1, 2020.
"After more than a decade of inspiring students to become designers that help higher education, industries, and communities, Design for America has the opportunity for further growth as it partners with the Watson Foundation," said Julio M. Ottino, dean of the McCormick School of Engineering. "We are proud that DFA was founded at Northwestern Engineering and are excited to see what the future brings."
The Watson Foundation was founded in 1961 in the name of Thomas J. Watson Sr., best known for building IBM. Through its fellowship programs and over 100 global partnerships, Watson works with undergraduates and recent college graduates to build remarkable personal, professional, and cultural opportunities that expand the vision and develop the potential as our next generation of leaders.
Watson Fellows span more than five decades, and today are leaders in their communities and fields, including CEOs, college presidents, community organizers, Emmy-, Grammy-, and Oscar-award winners, diplomats, entrepreneurs, faculty, journalists, lawyers, politicians, physicians, researchers, and influential social advocates.
"We've watched the growth and development of DFA from a small student group to an influential national innovation network," said Chris Kasabach, executive director of the Watson Foundation. "DFA's multi-disciplinary, experiential, and student-centered model is directly aligned with Watson's vision and provides a powerful student skillset."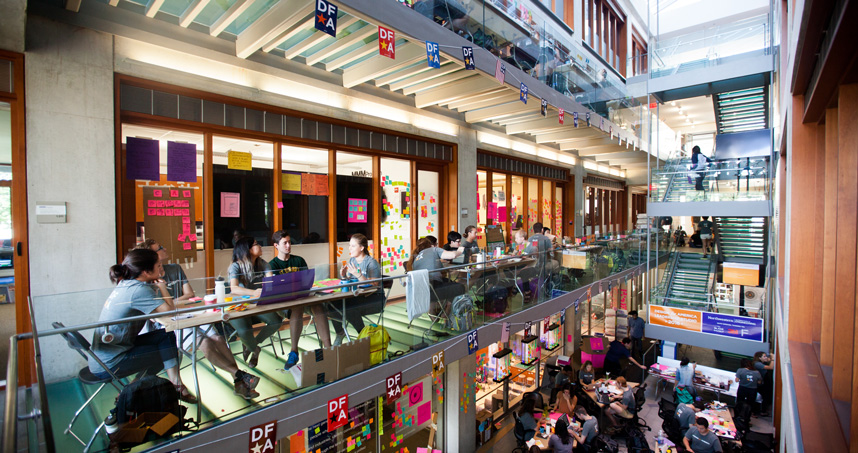 From student group to national network
DFA was founded at Northwestern Engineering's Segal Design Institute in 2009 by Professor Elizabeth Gerber and three Northwestern undergraduate students. Their goal was to fill a void where students could use human-centered design to address complex, real-world problems and make a difference in their communities.
"We envisioned students working with community partners to make societal impact," Gerber said. Now a national program comprising 38 universities and more than 1,200 members annually, DFA students tackle more than 150 projects each year addressing topics ranging from the voting experience to public health to accessibility. Northwestern's student chapter remains at the University.
From 2010 to 2019, Northwestern hosted the DFA Leadership Studio, bringing together student leaders from DFA chapters across the country to use design thinking to develop solutions to issues like creating accessibility in cities and helping high school students prepare for their future. Last year, the group celebrated its 10-year anniversary with the four-day DFA Summit, which expanded the traditional Leadership Studio to include career development and networking opportunities for DFA alumni and young professionals. There were also workshops for DFA mentors, design educators, faculty members, and industry professionals.
DFA's growing and sustained influence on design worldwide earned it a prestigious 2018 National Design Award for Corporate and Institutional Achievement from the Cooper Hewitt, Smithsonian Design Museum. The honor, which recognizes excellence, innovation, and enhancement of the quality of daily life, celebrated DFA for using design strategically as part of its mission, and its effort to consistently promote the relationship between design and quality of life. Other recipients of the award include Apple (2000), TED (2013), and Etsy (2014).
"The philosophy of the Watson Foundation — to develop humane and effective leaders — matches the founding principles of Design for America that aim to create a design corps that can lead change for good," said Gerber, associate professor of mechanical engineering.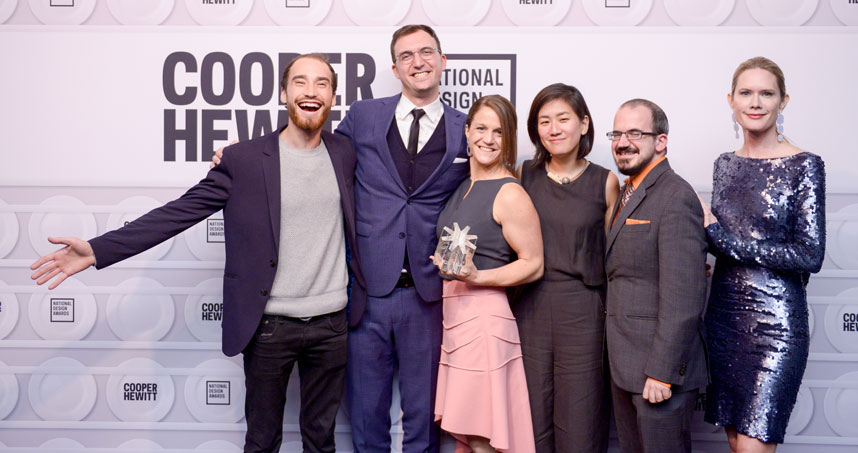 A lasting impact
DFA's commitment to improving quality of life has turned many projects into viable companies.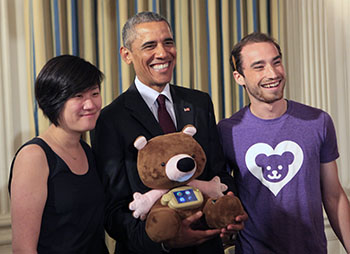 DFA cofounder Hannah Chung ('12) and Northwestern student Aaron Horowitz ('12) started their company, Sproutel, as undergraduate students in DFA's Northwestern chapter, where they developed the concept for their first product, Jerry the Bear. The robotic teddy bear teaches children with type 1 diabetes how to manage and cope with their condition. They presented Jerry the Bear to President Barack Obama during the first-ever White House Demo Day in 2015.
Two other DFA founding members, Mert Iseri ('11), and Yuri Malina (WCAS '11), launched their startup called SwipeSense in 2012. The hand hygiene improvement tool reduces the number of hospital-acquired infections and preventable errors. Hospitals using the technology have reduced their infection rates by as much as 48 percent, and saved millions of dollars.
Other DFA alumni across the country have launched businesses including RISE Products (New York University), a startup that upcycles spent grain from Brooklyn breweries; Wellinks, now part of Covexity Scientific (Yale University), a company that is now beginning clinical trials for smart wearable health devices; and Pair Eyewear (Stanford University), a startup that provides affordable, customizable eyewear that kids are excited to wear.