Events
Jerry the Bear Visits the White House
Northwestern alumni showcased the interactive teddy bear as a part of Demo Day
After being developed at Northwestern University, Jerry the Bear has enjoyed quite a journey. 
He has won business competitions, met Warren Buffett, helped deliver a TEDx talk, and has improved the lives of countless children who have Type-1 diabetes. Now he can add another milestone to his ever-growing resume: yesterday Jerry the Bear visited President Barack Obama as part of the first-ever White House Demo Day.
Created by Northwestern Engineering alumni Hannah Chung and Aaron Horowitz, the interactive teddy bear helps diabetic children build healthy behaviors through play. Jerry was first developed in 2009 as a project with Design for America, a student initiative founded at Northwestern that uses design for social good. After graduating in 2012, Chung and Horowitz built Jerry into the startup company Sproutel, which makes interacting learning games for children with chronic illnesses.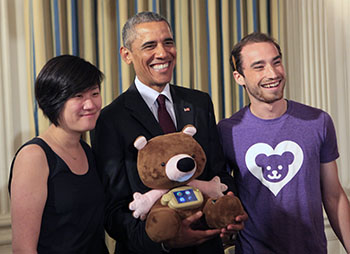 Sproutel was invited to take part in the White House Demo Day, which welcomed 32 companies founded by women and/or underrepresented minorities as a part of an effort to boost racial and gender diversity in the startup scene. According to the White House, women lead 3 percent of venture capital-backed startups in the United States, and African-Americans lead just 1 percent.
"Ideas can come from anybody and anywhere and be inspired by any kind of life experience," Obama told event attendees in the State Dining Room. "We have to judge those ideas by their merit and make sure they're not filtered out because of misconceptions... That's the very heart of America. Any of us can make it if we try."
Jerry helps kids count carbohydrates and monitor their blood sugar levels. A screen on Jerry's belly indicates when his glucose level is low, and he perks up when fed certain foods or given insulin. If his fingers are pressed, Jerry makes comments, such as "I feel great!"
Chung and Horowitz introduced Obama to Jerry and shared their personal stories. Along with having a diabetic father, Chung lost two grandparents to complications with Type-2 diabetes. As a child, Horowitz had low levels of human growth hormone, requiring him to regularly self-administer injections for years. These experiences encouraged the team to find ways to make health fun for kids in order to help them manage the illness. They are also developing similar products for children with food allergies and asthma.
Calling the product "fantastic" and "fun," Obama, who was celebrating his 54th birthday, pressed Jerry's finger, prompting it to chirp "Happy Birthday, Mr. President!" Surprised, Obama laughed along with the crowd. At the end of the event, the startup teams sang "Happy Birthday" together.
"We are so happy that we were able to represent Sproutel and Jerry the Bear as one of the companies that pushes diversity in tech," Chung said.