Events
Design for America Students Innovate For and With the Next Generation
Leadership Studio brought together more than 100 students from across the country
The high school students, teachers, and experts interviewed by the Design for America team all agreed: anxiety and access to mental health services was a key barrier to learning. Anxiety about school violence, peer perceptions, social media, and expectations from family and friends played a major role in students' ability to excel.
But what, one of the Leadership Studio sprint teams wondered, could they design that hadn't already been done?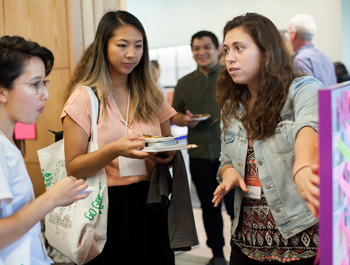 It's a seemingly monumental problem with no easy solution, but that didn't stop college and high school students at the 2018 Design for America Leadership Studio from using design-thinking skills to come up with ways to help young people live their best lives and prepare for the future.
The annual event, made possible by Artefact, Archeworks, Macmillan Learning, CPS Lives, Project Osmosis, Civic Tech Collective and 3M, brought together more than 100 students from 32 colleges across the country to learn about design and leadership — all through the lens of Design for America, a grassroots network of 38 colleges launched at Northwestern University that shapes the next generation of social innovators through design in their local communities.
The two-day sprint was part of a larger five-day DFA Summit, which included the Create Impact Conference for alumni and young professionals and the DFA Symposium workshops for DFA mentors, design educators, and industry professionals. Each aimed to strengthen DFA's network by connecting with alumni and the design community at large, said Rob Calvey, DFA instructional coordinator.
Giving high school students a voice
During the studio, interdisciplinary teams of college students were paired up with local high school students from Chicago and local suburban school systems and given one of three themes related to education:
Mental health
Mentor relationships
Preparing for future careers
They then began a two-day design sprint that guided them through the DFA design process — identify, immerse, reframe, ideate, build, and test.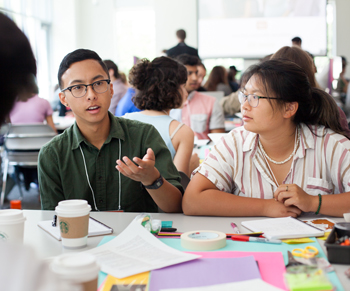 One team, whose members included students from Rice University, Duke University, Michigan State University, and two local high schools, decided to focus on mental health. Not so far removed from high school themselves, the students knew one big issue preventing students from seeking mental health help at school was trust.
One of the first steps of the design process, interviewing community members who would potentially use their designs, confirmed this.
"I don't know any people who would go to teachers for help," said Lily, a recent local high school graduate. Many students are worried that teachers or counselors will email their parents about their problems, she said.
Anna, a local high school teacher, agreed that it seemed difficult for students to ask for support, but said she was shattered to hear about her students' personal problems outside school. "We ask, are we doing enough to support the community?" she said.
After bouncing around several ideas, the team gravitated toward developing an event where students (or actors) could perform monologues, plays, and dances about real experiences that happened to them. That way, other students could realize they aren't alone in their struggles, and teachers, counselors, and the community at large would get a better sense of what students are going through.
"We want to start the conversation, take down barriers, and remove the stigma," said Angelo Ragan, a Spanish, Portuguese, and Latin American Studies major from Rice University. The performance could be followed by a fair, where students could connect with mental health services. When the DFA team presented their ideas to high school students and teachers the next day, the community members reacted positively to the idea, and the final result had only a few minor tweaks.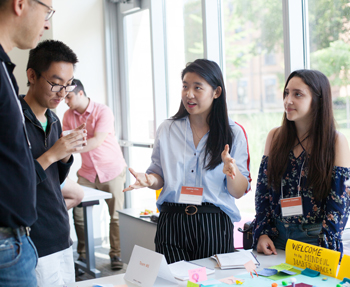 "It's so powerful to approach an everyday problem in a thoughtful, logical manner," Ragan said. "It shows how each portion of the process adds to your success. Your entire design is only as strong as the individual portions."
Designing apps, spaces, and programs
Other teams' designs included:
Growth Lab - A center inside a high school that offers three services: career advising, visits from local professionals who give presentations on their careers, and field trips to local companies.
Men-Tour - An app that matches mentors with mentees. Each potential match has a profile of their bio, values, strengths, hobbies, and availability. This would allow mentors and mentees to find each other organically, and then report back how the experience worked out.
A mentorship program that trains upperclassmen to become mentors to younger students, giving younger students a peer they could trust at school.
Trusting the design process
For Michael Youngblood, a rising senior at Jones College Prep in Chicago, the studio offered a glimpse into the design process. "There is a lot of iteration, and you need to work as a team," he said. "It's just a good way to think about things."
Those who participated said the studio taught them a process they could take back to their own campus and use in work beyond DFA. "Many computer science majors are not good at teamwork and following through on their plans," said Alexander Wilson, a junior at the University of Colorado Boulder. "With this design process I can work better even with my fellow computer science students."