Events
As Design for America Turns 10, Summit Spotlights Climate Change Effects in Local Communities
More than 120 Design for America students tackled the issue at the Northwestern-hosted event from August 8-11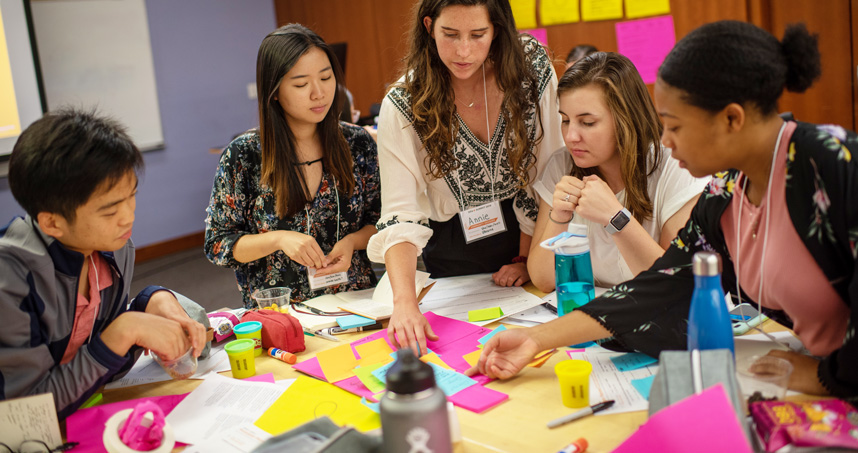 Climate change represents a global challenge affecting all corners of our planet, yet one Design for America (DFA) team believes mitigating its impact in the hardest hit areas can start at the local level — grocery stores, to be exact.
The group shared designs for a bulletin board that, when displayed at store entrances, would encourage shoppers to place stickers next to the environmental issues most important to them, such as flood or waste management. The team said that since grocery stores are central locations where the most people could participate, the initiative can promote conversation among residents about the role of climate change in their cities, as well empower people to take part in environmental policy decisions that affect their lives directly.
"As we prototyped our idea, we realized that the location where we put the bulletin board mattered a lot," said Lance Tan, a junior at Yale University. "If we put our board in a grocery store as opposed to a school or park or health clinic, we would get very different results. We think we could design different versions of the board for the different geographic areas we are targeting."
The project was one of 12 ideas presented at the DFA Design Sprint as part of the four-day DFA Summit from August 8-11 at Northwestern University. More than 120 students from 36 colleges across the country attended to learn about design and leadership against the backdrop of DFA, grassroots, student-led network launched at Northwestern that assesses social challenges using a human-centered design and works collaboratively with the communities they help to implement solutions.
The DFA Summit also marked the organization's 10th anniversary. Founded by Northwestern Engineering's Liz Gerber and three Northwestern undergraduate students in 2009, the group began as an outlet on campus where students could use human-centered design to address complex, real-world problems and make a difference in their communities. The concept quickly took hold on colleges across the country, leading to DFA becoming a national program with chapters in more than 41 universities, with more on the way.
The weekend events included "DFA is 10," a celebration dinner held on Garrett Lawn that commemorated the organization's growth over the last decade. Gerber joined current members and past alumni to celebrate DFA's notable achievements, from hosting past Leadership Studios to earning a Cooper Hewitt National Design Award in 2018.
The annual event, sponsored by Artefact, Edelman, Kohl's, Lundberg Family Farms, Google, and Publicis Sapient, also included the Community Leader programming track for DFA members interested in more active management roles leading projects in their own communities, as well as the DFA Create Impact Conference, which brought together DFA alumni and young professionals to discuss how design thinking for social good could positively impact their careers.
"The Community Leader track was a great opportunity to share my perspective on how to build successful partnerships between students and community members," said Bill Miller, professor of chemical and biological engineering at the McCormick School of Engineering, who participated in a panel discussion during the program. "I especially enjoyed the chance to interact with teams of enthusiastic and highly engaged students from across the US as part of a 'speed-dating' sprint on building collaborative relationships."
Collaborating on Climate Change
During the day-long Design Sprint, DFA members worked in teams to prototype and iterate concepts to support Chicago communities hit first and hardest by the effects of climate change. Working alongside members from local climate-focused community organizations like Chicago Youth Alliance for Climate Action, Sweet Water Foundation Chicago, 350 Chicago, and Sierra Club Chicago, students crafted ideas to help local communities mitigate or adapt to climate change through education programs and public health initiatives.
"What we want to do is develop prototypes that we could not only test today, but the community partners the teams worked with could test on Monday," said Irfan Ibrahim, a 2018-19 DFA fellow who led the Design Sprint. "The biggest thing the students learned today is how to collaborate."
Another group at the Design Sprint proposed using modern technology to educate communities about their waste habits. Inspired by the "reduce, reuse, recycle," waste hierarchy, the team shared concepts for a phone app that lets people track how they dispose of trash and offers suggestions on how to better utilize waste besides throwing it away. Similar to popular fitness tracker apps, users could track how their habits change over time and feel incentivized to make continued improvements.
Other community-focused ideas and concepts presented at the Design Sprint included:
A public display showing the number of plastic bags grocery stores use in a week or month to promote using reusable shopping bags
An app that scans the barcode of products and tells consumers how eco-friendly the product or company is, promoting more sustainable shopping
A template for a physical space where climate change organizations can meet to facilitate communication and plan new initiatives
An interactive website to connect like-minded sustainability organizations and local volunteers
A survey that can be sent by local sustainability organizations to community members that can inform what environmental issues are most important in the area