Honors and Awards
Design for America Honored with National Design Award at Cooper Hewitt Gala
The student group was celebrated at the National Design Awards Gala on October 18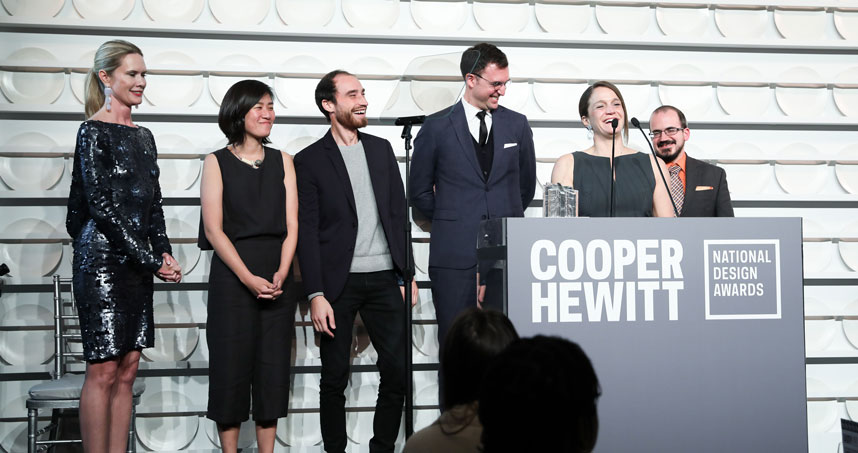 Less than 10 years after getting its start at Northwestern, Design for America (DFA) has been celebrated on one of the design world's biggest stages.
The national student group using design thinking to tackle social challenges was formally recognized with the Cooper Hewitt, Smithsonian Design Museum's National Design Award for corporate and institutional achievement on October 18.
The National Design Awards honor public impact and lasting achievement in American design and are given in recognition of excellence, innovation, and enhancement of the quality of life. The Corporate and Institutional Achievement Category honors an organization that uses design strategically as part of its mission, and has consistently promoted the relationship between design and quality of life. Past recipients of the award include Apple (2000), TED (2013), and Etsy (2014).
Northwestern Engineering's Liz Gerber, who founded DFA along with three undergraduate students in 2009, accepted the award at the National Design Awards Gala at Cooper Hewitt in New York City. The event was held in conjunction with Cooper Hewitt's National Design Week, a celebration of the role of design in all aspects of daily life.
In her acceptance speech, Gerber said the group was created to fill a void where students could use human-centered design to address complex, real-world problems and make a difference in their communities.
"This idea catalyzed a movement and Design for America has grown rapidly ever since," said Gerber, associate professor of mechanical engineering and communication. "To be sure, it hasn't always been easy to design a sustainable institution. There were days when Design for America did not seem possible. Today, I still marvel at how many people work day-to-day to build the network."
Now a national program comprising 38 universities and more than 1,200 members, DFA students tackle more than 150 projects each year addressing topics ranging from the voting experience to homelessness to accessibility.
"In 1961, The Peace Corps mobilized youth to support economic and social development. In 1989, Teach for America encouraged a new generation of teachers," Gerber said. "Today we have a thriving design corps that is changing higher education, industries, and our communities."
Each summer, Northwestern hosts the DFA Leadership Studio, bringing together student leaders from DFA chapters across the country to use design thinking to develop solutions to issues like creating accessibility in cities and helping high school students prepare for their future. This year, the two-day event was part of the larger DFA Summit, which included the Create Impact Conference for alumni and young professionals and the DFA Symposium workshops for DFA mentors, design educators, and industry professionals.