PhD Candidates Julia R. Downing, Sieun Ruth Lee Honored for DEI Efforts
Downing and Lee were named winners at the 39th Annual John E. Hilliard Lecture and Symposium
Northwestern Engineering materials science and engineering PhD candidates Julia R. Downing and Sieun Ruth Lee were named the winners of the Department of Materials Science and Engineering's (MSE) inaugural Diversity, Equity, and Inclusion (DEI) Award sponsored by the Dow Chemical Company.  
This award recognizes those members of the MSE community who participate in outreach and inclusivity efforts, thus creating an environment in which students from underrepresented populations can succeed. Downing and Lee were recognized for their contributions to the MSE department, the University, the greater engineering community, and beyond.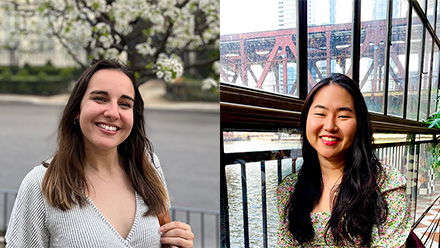 Downing was honored for her engagement in the inaugural departmental DEI Committee, the student and post-doctoral hiring committee, Northwestern's graduate chapter of the Society of Women Engineers (GradSWE), and her work with Graduate Education for Minorities. 
Downing thanked McCormick School of engineering assistant deans Bruce Lindvall and Ellen Worsdall for their guidance, and mentioned the members of the MSE-DEI and faculty hiring committees. She also cited her adviser, Professor Mark Hersam, for encouraging her pursuit of these initiatives and his "unwavering support." 
"I am extremely honored to be an inaugural recipient of this award. By recognizing student service in ongoing DEI initiatives, the MSE department demonstrates a strong commitment to growth and ensures progress towards creating a more inclusive environment in the future," Downing said. "I am determined to carry forward what I've learned in these roles at Northwestern to my next position, where I will continuously strive to provide a platform for scientists and engineers from underrepresented backgrounds to succeed." 
Lee was cited for her efforts in mentoring undergraduate students from traditionally underrepresented groups in STEM, and her engagement in GradSWE, Women in STEM, the Coding Club, and Teaching and Sharing Skills to Enrich Lives (TASSEL). 
An international student, Lee said she barely spoke any English when she arrived in the United States at age 11, and that it would have been impossible to get to where she is now without the support and guidance she's received from her adviser, Professor Samuel I. Stupp, various mentors in the Northwestern community, and from others throughout her life.
"Because of this, I am deeply grateful to have the opportunity to pay it forward by providing mentorship to students from underrepresented backgrounds and developing a safe space for everyone to thrive," Lee said. "This requires a team effort, and I am incredibly blessed to work with brilliant, dedicated leaders in the MSE department and beyond who embrace change and invest time and resources in cultivating an inclusive environment for all students. With this support network, I am even more motivated to continue in this meaningful call." 
Downing and Lee were presented their awards at the 39th Annual John E. Hilliard Lecture and Symposium held Thursday, May 19. The keynote speaker was Amber Genau (PhD '08), an associate professor of materials science and engineering at the University of Alabama at Birmingham.  
The John E. Hilliard Symposium is the MSE department's annual capstone event, highlighting its senior graduate students' original research. This symposium, named for late professor John E. Hilliard, encourages communication between the MSE department and representatives of companies and agencies that support its work. It is also an opportunity to welcome back alumni while promoting career paths and successes of graduates.