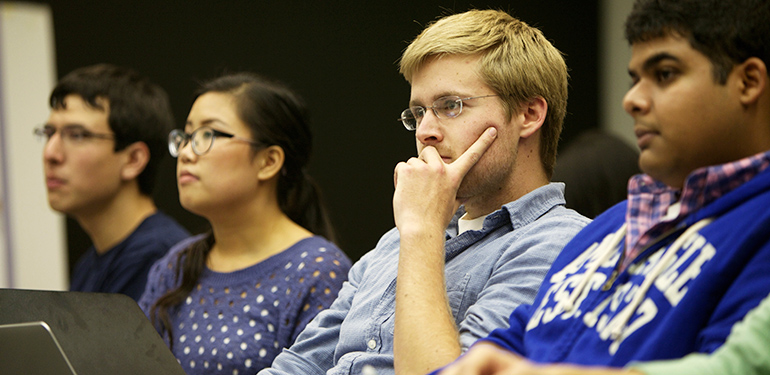 Graduate Student Resources
Browse this section to find useful resources for current McCormick graduate students.
You can also browse the current student resources for each academic department to get helpful information related to your major or field.
Prospective graduate students will find helpful information about McCormick's programs in our Academics section.
Jump to a Section
McCormick's position and policies on professional integrity and our academic integrity statement
Graduate students at McCormick have a variety of opportunities to fund their studies and sharpen the focus of their research as they work toward a postgraduate degree. Browse fellowships and internships provided through McCormick and external institutions.
This office can help you launch your search for national and international fellowship competitions that meet your educational, intellectual, and personal goals.
Some fellowships provide funding to attend graduate school; others allow you to study or conduct research overseas, enabling you to gain practical experience in your field.
Financial Aid Satisfactory Academic Progress (SAP) Policy for Master's Students
Federal regulations require recipients of federal financial aid to maintain satisfactory academic progress in their program of study.
It is the university's expectation that all McCormick master's students make progress toward degree completion. Review of such progress must apply to all terms of enrollment within an academic year, including terms for which no federal financial aid is granted, as explained here.
Students must demonstrate satisfactory academic progress in three fundamental ways:
Maintain a cumulative GPA of 3.0 or higher
Complete two-thirds of all credits attempted per academic term if enrolled full-time or one-half of all credits if enrolled half-time
Complete program within a specified period of time
Download the full satisfactory academic progress (SAP) policy for more information on these requirements, as well as suspensions, appeals, and first-time financial aid applications.
ECD provides McCormick graduate students with practical support, workshops, advising, and customized resources to meet your career needs and help you connect with potential employers.
Northwestern Career Advancement (NCA) offers comprehensive career services to graduate students. Students across all graduate departments are eligible to receive services to address their career planning and job search needs. NCA offers:
career counseling and assessment
individual job search planning
access to multiple job career related resources
Responsible Conduct of Research (RCR) training is required by The Graduate School for all first-year graduate students and consists of two parts:
Completion of the GEN_ENG 519 course by the end of the first year of study
Completion of the CITI online course by December 1 of the first year of study
Northwestern's CAPS office provides counseling to individuals and groups, as well as workshops and outreach programs. CAPS has a team of highly qualified and experienced mental health professionals who are dedicated to helping students work through developmental needs, emotional difficulties, adjustments, and crises.
The McCormick Graduate Teaching Committee (MGTC) is an informational hub for graduate teaching assistants across all McCormick departments and programs. MGTC is a coalition of professors and graduate students providing a forum for communication and centralized resources for teaching assistants.
Current Student Resources by Department
More in this section