What I Learned Presenting at the Museum of Science and Industry
Ahalya Mandana (MSR '18) reflects on her participation in National Robotics Week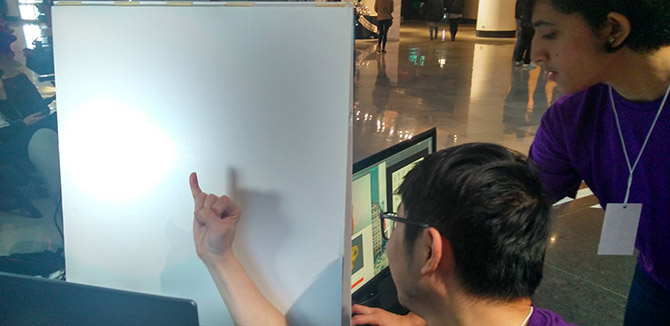 By Ahalya Mandana
This past April, Northwestern Engineering's Master of Science in Robotics (MSR) program participated in National Robotics Week at the Museum of Science and Industry (MSI). On April 7 and 8, my classmates and I got a chance to present our projects to museum visitors.
It was challenging experience because we were all not really used to talking about our projects to complete strangers. In the weeks running up to the MSI weekend, I got better at talking about the technical details of the project — such as the machine learning concepts and the different stages involved in implementing the project — in preparation for all the possible questions that could come from MSI visitors.  This also helped me while I was interviewing for my summer internship as I was able to come up with clearer answers to the interviewer's technical questions.
The project that I presented at MSI was my winter quarter project. All MSR students begin work on their winter projects in January, and the projects are usually done by the end of March. My project was an application to help children learn American Sign Language (ASL) using machine learning and computer vision.
All the programming for the project was done using Python. There are quite a few existing sign language recognition projects, but I wanted to design something that would get young kids to practice sign language on their own. The app works on a laptop now, but ideally, I would like to design an Android app so that it can actually be used by kids on their phones/tablets.
When I first found out that we would be presenting our project work to hundreds of strangers at MSI, I was actually a little worried. I had been to MSI a few months earlier, and the visit left me quite awestruck because of how fascinating all the exhibits were. I was wondering what it would be like to present a project to kids, and to keep them interested and engaged, while we were surrounded by all the cool MSI exhibits.
It turned out that I didn't need to worry at all.
Our cohort displayed our projects in the Rotunda space, and we got a chance to interact with so many kids and adults who were fascinated by our projects. I set up my project in a way that allowed visitors to view the app interface on my laptop — they were encouraged to try out an ASL sign and then see if they got it right or not.
I really enjoyed talking to the people who came by — there was a young girl who learned ASL in high school and she wanted to try out the app, then there was another gentleman who was interested in the project because his mother had a hearing impairment so he was familiar with ASL.
The MSI event gave me the perfect opportunity to interact with the kids who came by and find out more about what they would like from an app like this (since the app was meant for their age group). I got so much valuable feedback! One little boy suggested that I animate the graphics to show a hand with all the fingers outstretched at first and then folding to form the ASL sign. Another child mentioned that he would find it more interesting if it had a points system that made it like a game. I definitely got a sense of what kids were looking for in an app because they all articulated their suggestions very clearly.
I think it was a rewarding experience for all of us to see the kids interact with something we'd personally worked on over the quarter. The entire weekend at MSI was a huge learning experience for me, and I'm glad that MSR students get a chance to do it every year.
Ahalya Mandana is a current student in the MSR program.