Announcements
Northwestern Establishes Julio M. Ottino Professorship
Professorship recognizes leadership of McCormick School of Engineering's longtime dean
Northwestern University has established the Julio M. Ottino Professorship in recognition of Ottino's leadership and long-term commitment to the University and the McCormick School of Engineering.
Members of the McCormick Advisory Council, alumni, and other supporters made gifts to Northwestern to create the professorship in Ottino's honor.
Last October, Ottino announced he would be stepping down as dean at the end of the 2022–23 academic year. He will continue to serve as Robert R. McCormick Institute Professor and Walter P. Murphy Professor of Chemical and Biological Engineering. Before becoming dean in 2005, Ottino served as chair of the Department of Chemical and Biological Engineering. He also founded and codirected the Northwestern Institute on Complex Systems.
"I am incredibly grateful to the Northwestern community for this wonderful honor," Ottino said. "This professorship is a testament to all of the successes we achieved together as a school during my tenure as dean."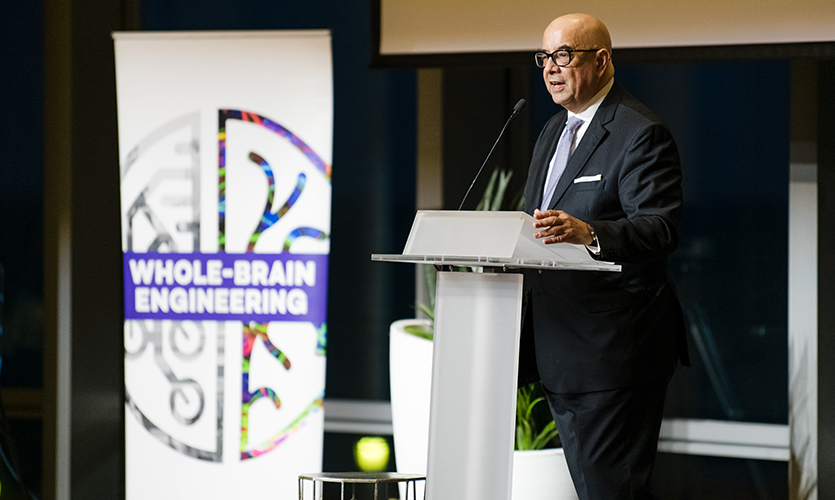 An internationally recognized researcher in complex systems and nonlinear dynamics and mixing, Ottino has been recognized with numerous national and international awards, including honors from the American Physical Society and the American Institute of Chemical Engineers, which named him among the "One Hundred Engineers of the Modern Era." Last year, he was elected to the National Academy of Sciences. During his tenure, he published two books, most recently The Nexus: Augmented Thinking for a Complex World, The New Convergence of Art, Technology, and Science, with collaborator Bruce Mau.
As dean, Ottino oversaw a dramatic expansion of the McCormick School of Engineering driven by his guiding philosophy, "Whole-Brain Engineering," which integrates the elements of left-brain thinking — analysis, logic, synthesis, and math — with the kind of right-brain thinking that fosters intuition, metaphorical thought, and creative problem solving. Through his leadership, Northwestern Engineering forged partnerships with The Block Museum of Art, the School of the Art Institute of Chicago, and departments across Northwestern, challenging students to expand their thinking.
In recognition of the development of Whole-Brain Engineering, the National Academy of Engineering awarded Ottino the 2017 Bernard M. Gordon Prize for Engineering Education, the highest honor for engineering education in the US. 
Ottino launched the Segal Design Institute and the Farley Center for Entrepreneurship and Innovation, and revamped McCormick's core first-year course, now called Design Thinking and Communication. Under Ottino, Northwestern Engineering also established new master's degree programs in analytics, artificial intelligence, and robotics, as well as the joint MBAi program with the Kellogg School of Management. The joint MMM Program, also in conjunction with Kellogg, was also completely redesigned to focus on design innovation.
During Ottino's tenure, research funding at Northwestern Engineering more than doubled, and 20 interdisciplinary centers were launched, including the Center for Synthetic Biology, the Center for Computer Science and Learning Sciences, the Center for Advanced Regenerative Engineering, and the Center for Engineering Sustainability and Resilience. Commercial translation of research also flourished, and McCormick now leads Northwestern in patent disclosures and faculty-led startups.
Learn more about Ottino's legacy in Northwestern Engineering magazine.