Honors and Awards
Two Faculty Inducted into the AIMBE College of Fellows
Brenna Argall and Danielle Tullman-Ercek are part of AIMBE's College of Fellows Class of 2023
Northwestern Engineering's Brenna Argall and Danielle Tullman-Ercek have been elected to the American Institute for Medical and Biological Engineering's (AIMBE) College of Fellows.
AIMBE fellows represent the top 2 percent of medical and biological engineers in academia, industry, education, clinical practice, and government. Advancing innovation to improve healthcare and the safety of society, fellows have distinguished themselves through notable contributions in research, industrial practice, and education.
Argall and Tullman-Ercek are among the 140 engineers in the College of Fellows Class of 2023, who were formally inducted during AIMBE's Annual Event in Arlington, Virginia.
Brenna Argall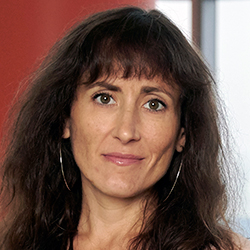 Argall, associate professor of computer science and mechanical engineering at the McCormick School of Engineering and of physical medicine and rehabilitation at Northwestern's Feinberg School of Medicine, was recognized by the AIMBE "for outstanding contributions to the field of robotics and human-machine interfaces with specific emphasis on rehabilitation of patients with disabilities."
Argall heads the Assistive and Rehabilitation Robotics Laboratory (argallab) at the Shirley Ryan AbilityLab. Her research — at the intersection of artificial intelligence, machine learning, and rehabilitation robotics — incorporates robotic autonomy and intelligence into assistive devices to enable independent mobility for people with limited movement capabilities.
In 2022, Argall received a National Science Foundation (NSF) Convergence Accelerator Phase 1 award. The multidisciplinary partnership of academic, industry, and non-profit members aims to accelerate the accessibility and utility of power wheelchairs by radically changing how control inputs are interpreted from movements of the human body and communicated to the wheelchair control system. The team will also apply practical machine intelligence to enhance safety and facilitate independent wheelchair operation.
In 2016, Argall received an NSF Faculty Early Career Development Program (CAREER) award. She was also named one of the "40 under 40" by Crain's Chicago Business. She is a faculty adviser for Northwestern Engineering's Master of Science in Robotics program and a core faculty member of the Center for Robotics and Biosystems.
Danielle Tullman-Ercek
Tullman-Ercek, professor of chemical and biological engineering, was cited for "developing new methods to engineer supramolecular protein assemblies and for fostering a diverse, inclusive synthetic biology community."
The Tullman-Ercek Lab builds biomolecular devices for a wide range of applications in areas from medicine to the environment. The team's research focuses on highly organized self-assembling proteins — the nanoscale building blocks of biology. Such systems abound in the living world, and the resulting assemblies govern critical processes at all levels of life, from the formation of virus capsids to the transport of oxygen in the blood.
In 2022, Tullman-Ercek led a collaborative team to study how changes in the geometry of bacterial microcompartments can influence their function.
Tullman-Ercek was recently appointed codirector of Northwestern's Center for Synthetic Biology (CSB). Drawing from the tools and concepts of physics, engineering, and computer science, CSB faculty investigate four unique research themes: cell-free systems, mammalian systems, enabling technologies, and ethics and societal impact. She also directs the Master of Biotechnology Program and the Synthetic Biology Research Experience for Undergraduates program.
Northwestern Engineering Leads at AIMBE Annual Meeting 

Organized by Northwestern Engineering's Guillermo Ameer, the AIMBE Chair of the College of Fellows, AIMBE staged its first in-person Annual Meeting in three years. Held March 26-27, the theme of the event was "Restoring and Preserving Public Trust in Medical and Biological Engineering," and saw remarks from a dozen speakers and panelists, including Matthew Hepburn from the White House Office of Science and Technology. The gathering also had AIMBE Fellows attending meetings on Capitol Hill with their members of Congress, where they discussed funding priorities for the National Institutes of Health and the National Science Foundation.
Ameer, Daniel Hale Williams Professor of Biomedical Engineering at the McCormick School of Engineering, professor of surgery at Feinberg, and director of the Center for Advanced Regenerative Engineering, was honored with AIMBE's Professional Impact Award for Leadership.  He was cited for "advancing biomaterial sciences and technology translation and promoting the fields of regenerative engineering, diversity and inclusion among national professional societies."
Chad Mirkin, the George B. Rathmann Professor of Chemistry and Materials Science and Engineering at Northwestern and director of the International Institute for Nanotechnology, delivered the Earl Bakken Lecture. Mirkin's talk explored nanotechnology in medicine and society.