Faculty Directory

Chad Mirkin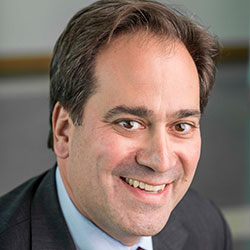 George B. Rathmann Professor of Chemistry, Materials Science and Engineering, and (by courtesy) Chemical and Biological Engineering and Biomedical Engineering
Director, International Institute for Nanotechnology
Contact
2190 Campus Drive
Ryan Hall, Room 3010
Evanston, IL 60208
847-467-7302
Email

Chad Mirkin
Website
---
Departments
Materials Science and Engineering
Chemical and Biological Engineering
Affiliations
Education
NSF Postdoctoral Fellow in Chemistry, MIT, Cambridge, MA
Ph.D. Organic Chemistry, Penn State, State College, PA
B.S. Chemistry (Phi Beta Kappa), Dickinson College, Carlisle, PA
Research Interests
Fundamental and applied nanoscience, nanomaterials, nanibiotechnology, nanomedicine, nanolithography

Our research focuses on developing methods for controlling the architecture of molecules and materials on the 1-100 nm length scale, and utilizing such structures in the development of analytical tools that can be used in the areas of chemical and biological sensing, lithography, catalysis, and optics.
Mirkin has pioneered the use of biomolecules as synthons in materials science and the development of nanoparticle-based biodiagnostics. Many of the concepts and materials developed within his laboratories are now the basis for commercial detection and lithography systems.
Significant Recognition
2022 Acta Biomaterialia Gold Medal
2021 De Gennes Prize, Royal Society of Chemistry
2021 G.M. Kosolapoff Award
2020 AAAS Philip Hauge Abelson Prize
2019 Kabiller Prize in Nanoscience and Nanomedicine
2019 Perkin Medal
2019 Netherlands Award for Supramolecular Chemistry
2018 Theodore William Richards Medal
2018 Remsen Award
2018 Ralph N. Adams Award in Bioanalytical Chemistry
2017 Fellow, American Chemical Society
2017 Wilhelm Exner Medal
2017 Dickson Prize in Science
2017 William H. Nichols Medal
2016 RUSNANOPRIZE
2016 Dan David Prize
2016 American Institute of Chemists Gold Medal
2015 Fellow, American Institute for Medical and Biological Engineering
2015 Raymond and Beverly Sackler Prize in Convergence Research
2015 Royal Society of Chemistry (RSC) Centenary Prize
2013 Fellow, National Academy of Inventors
2013 Linus Pauling Medal
2013 Walston Chubb Award for Innovation
2012 American Chemical Society Award for Creative Invention
2011 Fellow, American Academy of Arts and Sciences
2010 Fellow, National Academy of Medicine
2010 Fellow, National Academy of Sciences
2009 $500,000 Lemelson-MIT Prize
2009 Member, President's Council of Advisors on Science & Technology (PCAST, Obama Administration)
2009 Fellow, National Academy of Engineering
Significant Professional Service
National Academy of Engineering
Editorial Advisory Board of Accounts of Chemical Research
Editorial Advisory Board, Advanced Materials
Editorial Advisory Board, Chemical and Engineering News
Editorial Advisory Board, BioMacromolecules
Editorial Advisory Board, Macromolecular Bioscience
Editorial Advisory Board, SENSORS
Editorial Advisory Board, Encyclopedia of Nanoscience and Nanotechnology
Editorial Advisory Board, Chemistry-A European Journal
Editorial Advisory Board, Macro-Journals of Macromolecule
Editorial Advisory Board, Chemistry & Biology
Editorial Advisory Board, Nanotechnology Law & Business
Editorial Advisory Board, Journal of Materials Chemistry
Editorial Advisory Board, Journal of Cluster Science
Founding editor of the journal Small
Science Advisory Board member for the International Society for Nanoscale Science, Computation and Engineering
Selected Publications
Li, Yuanwei; Tanriover, Ibrahim; Zhou, Wenjie; Hadibrata, Wisnu; Dereshgi, Sina Abedini; Samanta, Devleena; Aydin, Koray; Mirkin, Chad A., Monolayer Plasmonic Nanoframes as Large-Area, Broadband Metasurface Absorbers, Small (2022).
Lai, Minliang; Shin, Donghoon; Jibril, Liban; Mirkin, Chad A., Combinatorial Synthesis and Screening of Mixed Halide Perovskite Megalibraries, Journal of the American Chemical Society (2022).
Zhang, Wuliang; Callmann, Cassandra E.; Meckes, Brian; Mirkin, Chad A., Tumor-Associated Enzyme-Activatable Spherical Nucleic Acids, ACS nano (2022).
Jibril, Liban; Cheng, Matthew; Wahl, Carolin B.; Dravid, Vinayak P.; Mirkin, Chad A., Polymer-Mediated Particle Coarsening within Hollow Silica Shell Nanoreactors, Chemistry of Materials (2022).
Wang, Shunzhi; Lee, Sangmin; Du, Jingshan S.; Partridge, Benjamin E.; Cheng, Ho Fung; Zhou, Wenjie; Dravid, Vinayak P.; Lee, Byeongdu; Glotzer, Sharon C.; Mirkin, Chad A., The emergence of valency in colloidal crystals through electron equivalents, Nature materials (2022).
Teplensky, Michelle H.; Distler, Max E.; Kusmierz, Caroline D.; Evangelopoulos, Michael; Gula, Haley; Elli, Derek; Tomatsidou, Anastasia; Nicolaescu, Vlad; Gelarden, Ian; Yeldandi, Anjana; Batlle, Daniel; Missiakas, Dominique; Mirkin, Chad A., Spherical nucleic acids as an infectious disease vaccine platform, Proceedings of the National Academy of Sciences of the United States of America (2022).
Zhang, Xinpeng; Ding, Shaowei; Magoline, Jared; Ivankin, Andrey; Mirkin, Chad A., Photopolymerized Features via Beam Pen Lithography as a Novel Tool for the Generation of Large Area Protein Micropatterns, Small (2022).
Samanta, Devleena; Zhou, Wenjie; Ebrahimi, Sasha B.; Petrosko, Sarah Hurst; Mirkin, Chad A., Programmable Matter, Advanced Materials (2022).