Honors and Awards
Karen Smilowitz Named 2022 INFORMS Fellow
Smilowitz was recognized for outstanding research and significant contributions to social good
Northwestern Engineering's Karen Smilowitz, James N. and Margie M. Krebs Professor in Industrial Engineering and Management Sciences, has been named a 2022 fellow of INFORMS. The honor is one of the most prestigious in the operations research (OR) profession.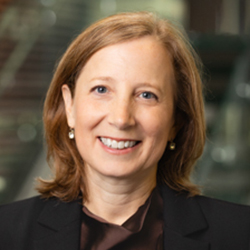 The largest association for the decision and data sciences, INFORMS annually recognizes fellows for their outstanding lifetime accomplishments and contributions in OR and analytics.
Smilowitz was honored for "outstanding research in transportation, logistics and nonprofit operations, significant contributions to the practice of OR for social good and advancing equity and diversity."
An expert on humanitarian and non- and for-profit logistics, Smilowitz studies the opportunities and challenges of introducing operational flexibility into logistics systems. Her research has led to collaborations with several organizations, including the Red Cross and non-governmental organizations in Africa. She uses these connections to create opportunities for her students to engage in real-life prosocial work.
Among recent projects, Smilowitz and PhD student Eugene Wickett studied how to disrupt the flow of poor-quality or counterfeit versions of medications such as amoxicillin and antimalarials to hospitals and pharmacies in developing countries. She has also worked with the Chicago Marathon on using data analytics to help marathon organizers ensure that medical tents are well-staffed throughout the 26.2-mile course. Smilowitz and her students developed a custom-designed data-visualization system that provides a computer simulation of the race as it unfolds, forecasting where large concentrations of participants will be along the course and helping race officials plan accordingly.
A Northwestern faculty member since 2001, Smilowitz currently serves as editor-in-chief of the journal Transportation Science. She was also named to Crains Chicago Business' "Notable Women in STEM" list in 2020.
Smilowitz will be formally inducted as one of 12 members in this year's class of fellows during the 2022 INFORMS Annual Meeting in October.