McCormick in the Media
Broadbelt, Smilowitz Named to Crain's 'Notable Women in STEM'
Faculty are among 32 women highlighted as Chicago-area STEM leaders


Northwestern Engineering's Linda Broadbelt and Karen Smilowitz have been named to Crain's Chicago Business' 2020 "Notable Women in STEM."
The two professors are among 32 women in the publication's feature, which spotlights Chicago-area female STEM leaders from academia, architecture, engineering, e-commerce, and digital strategy. Teri Odom, Charles E. and Emma H. Morrison Professor of Chemistry and (by courtesy) professor of materials science and engineering, was also recognized.
Broadbelt, Sarah Rebecca Roland Professor and professor of chemical and biological engineering, was chosen as a leader in modeling complex reaction systems. Her contributions to the complex kinetics modeling of hydrocarbon chemistry has led to automated mechanism generation techniques and methods for specification of rate coefficients. She is applying her computational expertise to fields like catalysis, degradation kinetics, and biological pathway identification. Her work has been adopted by several companies, including ExxonMobil, UOP, Codexis, and ConocoPhillips.
Broadbelt, who also serves as associate dean for research at the McCormick School of Engineering, was recently part of a research team that demonstrated a new approach to conducting chemical reactions that doesn't require direct contact with a catalyst, an advance that could impact environmental remediation and fuel production. She's also working as part of a multi-institutional team to leverage clostridium, a bacterium that metabolizes carbon, to produce sustainable fuels.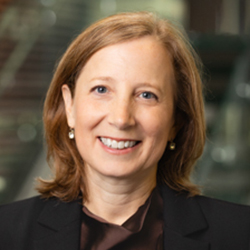 Smilowitz, James N. and Margie M. Krebs Professor in Industrial Engineering and Management Sciences, was spotlighted for her expertise in humanitarian logistics. Her research, which has focused on food distribution, library services, mobile health care, and humanitarian relief, has sparked collaborations with nonprofits including the Red Cross and Chicago Marathon. These efforts have provided students unique experiential learning opportunities while also serving the broader community.
A Northwestern faculty member since 2001, Smilowitz has also made notable impact to Northwestern Engineering's curriculum, developing and teaching courses such as IEMS 365: Analytics for Social Good, an annual class for both engineering and non-engineering majors that challenges students to use their unique academic backgrounds to work together to gain insights from data that can benefit communities.