Honors and Awards
Smilowitz Named Editor-in-chief of Transportation Science
Smilowitz will begin her term in January 2021
Karen Smilowitz, James N. and Margie M. Krebs Professor in Industrial Engineering and Management Sciences, has been appointed editor-in-chief of the journal Transportation Science.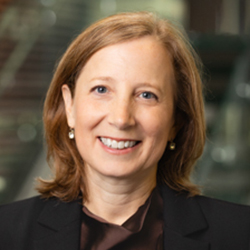 Smilowitz, who currently serves as an associate editor at Transportation Science, is an expert in humanitarian logistics and transportation systems. Her research, which has focused on food distribution, library services, mobile health care, and humanitarian relief, has sparked collaborations with nonprofits including the Red Cross and Chicago Marathon. These efforts have provided her students unique experiential learning opportunities while also serving the broader community.
A member of Crain's Chicago Business' 2020 "Notable Women in STEM" list, Smilowitz has also made notable impact to Northwestern Engineering's curriculum, developing and teaching courses such as IEMS 365: Analytics for Social Good, an annual class for both engineering and non-engineering majors that challenges students to use their unique academic backgrounds to work together to gain insights from data that can benefit communities.
The flagship journal of the Transportation Science and Logistics Society of INFORMS, Transportation Science is considered the foremost scientific journal in the cross-disciplinary operational research field of transportation analysis. The publication produces high-quality original contributions and surveys on phenomena associated with all modes of transportation, present and prospective, including all levels of planning, design, economic, operational, and social aspects.
Effective January 1, 2021, the announcement was made this month during the Institute for Operations Research and the Management Sciences (INFORMS) annual meeting.