Announcements
IBM Honors Ginni Rometty with $5 Million Gift to Her Alma Mater
Two computer science professorships will bolster artificial intelligence and machine learning programs
A $5 million gift from IBM will endow two computer science professorships in Northwestern University's McCormick School of Engineering in honor of Virginia M. "Ginni" Rometty '79, '15 H, the first woman to lead the company.
Rometty, a Northwestern alumna and vice chair of the University's Board of Trustees, retired as executive chairman of IBM in December 2020, having previously served as chairman, president, and chief executive officer. Her career at the company spanned nearly 40 years.
Ginni Rometty Professorships of Computer Science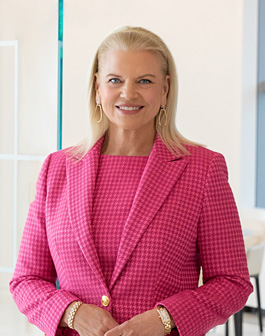 The two Ginni Rometty Professorships of Computer Science will support research and teaching related to artificial intelligence (AI) and machine learning.
The first professorship will be awarded to Jessica Hullman, currently associate professor of computer science and journalism. The second professorship will fund the recruitment of a senior scholar who has attained distinction in AI and/or machine learning, with a preference for candidates who have demonstrated a strong commitment to diversity and inclusion in computer science.
"This generous gift is a wonderful tribute to Ginni Rometty, and we are grateful to IBM and its board of directors for honoring her in this special way," Northwestern President Morton Schapiro said. "Ginni has a deep understanding of AI and machine learning and their incredible potential to reshape how we work and live. At Northwestern's commencement several years ago, she helped our newest alums understand that they were graduating at 'a truly unique moment in history' — the dawn of a new era of computing made possible by big data."
The new professorships come at an important time for Northwestern Engineering, which launched the Computer Science Transformation Initiative in 2016 as part of a plan to hire 20 new faculty members — 10 in computer science and 10 with joint appointments across the University (referred to as CS+X). To date, 11 new faculty have been hired, plus a department chair.
"I cannot think of a better role model for our students and faculty than Ginni Rometty. Ginni has been a trailblazer in her field and has served as a valuable adviser and friend to the McCormick School," said Julio M. Ottino, Northwestern Engineering dean. "Jessica Hullman is an outstanding inaugural recipient of the chair. Jessica's pioneering work, in uncertainty visualization and modeling of how people interact with data-driven predictions, is key to ensuring that AI and machine learning can reach human users in ways that are both easily understood and actionable."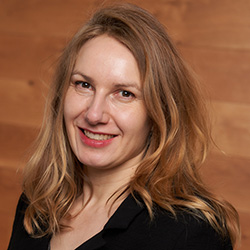 Hullman, who joined Northwestern in 2018, is an associate professor with a primary appointment in the department of computer science and secondary appointment in the Medill School of Journalism, Media, Integrated Marketing Communications. Her research addresses the design and evaluation of software interfaces that let people interact with data-driven models and predictions, combining techniques from interactive visualization, statistics, and mathematical models of cognition.
This latest gift brought IBM's total giving throughout We Will. The Campaign for Northwestern to $10.1 million. During the Campaign, IBM made in-kind gifts of analytic software and cloud computing resources for Medill and an in-kind gift of equipment to the Feinberg School of Medicine. The company also has provided support for Northwestern Engineering faculty and the School of Education and Social Policy.
Passion for innovation and education
Ginni Rometty's passion for innovation is matched by her passion for education. This gift to her cherished alma mater is a fitting tribute to her twin legacy at IBM as a champion of artificial intelligence and a trailblazer for skills-based learning for the digital age. It will no doubt help to drive further advancements in this revolutionary technology for the benefit of business and society.
Developing trusted, responsible, and inclusive artificial intelligence is a central challenge of our time. Northwestern's commitment to this endeavor is clear and inspiring, as evident by its Computer Science Transformation Initiative. It is a privilege to have my name associated with these distinguished professorships and the outstanding educators who will hold them.
Ginni Rometty
IBM is a corporate recruiting partner at Northwestern and provides faculty and students with free access to select online tools and resources through the IBM Academic Initiative. In addition, IBM and Northwestern scientists collaborate through the Chicago Quantum Exchange, an intellectual hub and community of researchers focused on accelerating discovery and innovation in quantum technology.
"I am deeply grateful to IBM and Northwestern University, which have had such a profound impact on my life, for this honor," Rometty said. "Developing trusted, responsible, and inclusive artificial intelligence is a central challenge of our time. Northwestern's commitment to this endeavor is clear and inspiring, as evident by its Computer Science Transformation Initiative. It is a privilege to have my name associated with these distinguished professorships and the outstanding educators who will hold them."
The two professorships are supported in part by alumni Patrick G. '59, '09 H and Shirley W. Ryan '61, '19 H ('97, '00 P) through the Ryan Family Chair Challenge, which matched gifts made by other Northwestern supporters to establish new endowed professorships, or chairs, across a wide range of disciplines.
"Ginni Rometty is an extraordinary business strategist who has been a valued member of the University's governing body for more than a decade," said J. Landis Martin, chair of Northwestern's Board of Trustees. "We are fortunate to benefit from her vast expertise, visionary leadership, and strong commitment to diversity and inclusion."
About Ginni Rometty
Rometty graduated with high honors from the McCormick School of Engineering in 1979 with a bachelor's degree in computer science and electrical engineering. After joining IBM as a systems engineer in 1981, she held a series of leadership positions across the company and led the successful integration of PricewaterhouseCoopers Consulting, creating a global team of more than 100,000 business consultants and services experts.
Under Rometty's leadership, IBM built out key capabilities in hybrid cloud, security, quantum computing, industry expertise, and data and AI, both organically and through acquisition. IBM acquired 64 companies during her tenure as CEO, including Red Hat, the largest acquisition in the company's history. She reinvented more than 50 percent of IBM's portfolio, built a $21 billion hybrid cloud business, and established IBM's leadership in AI, quantum computing, and blockchain.
Rometty also established IBM as the model of responsible stewardship in the digital age. She was the industry's leading voice on technology ethics and data stewardship, working relentlessly to safely usher new technologies into society. She enabled people of diverse backgrounds and education levels to participate in the digital economy by building talent, skills, and opportunity for disadvantaged populations.
Under her leadership, IBM championed the reinvention of education around the world, including the explosive growth of the six‑year Pathways in Technology Early College High Schools, or P‑TECHs, which are helping prepare the workforce of the future, serving hundreds of thousands of students in more than 200 schools and 24 countries. Rometty also advanced IBM's diversity and inclusion initiatives, including extending parental leave and making it easier for women to return to the workforce through a "returnships" program with hands‑on work experience in emerging technologies.
Rometty joined the Northwestern University Board of Trustees in 2010 and currently serves as vice chair. Northwestern conferred an honorary doctorate to Rometty in 2015, when she delivered the main address at the University's 157th commencement ceremony. That same year she was elected to the National Academy of Engineering, among the highest honors for engineering researchers and leaders. She received the 2019 Edison Achievement Award for her significant and lasting contribution to the world of innovation.
Rometty is co-chair of OneTen, an organization that will combine the power of committed US companies to upskill, hire, and promote one million Black Americans over the next 10 years into family-sustaining jobs with opportunities for advancement. She serves on the Council on Foreign Relations, the Board of Trustees of Memorial Sloan-Kettering Cancer Center, and the Board of Directors of JPMorgan Chase. Rometty is also a member of the Tsinghua University School of Economics and Management advisory board, the Singapore Economic Development Board International Advisory Council, and the BDT Capital Advisory Board.
About the "We Will" Campaign
The funds raised through We Will. The Campaign for Northwestern are helping realize the transformational vision set forth in Northwestern's strategic plan and solidify the University's position among the world's leading research universities. More information on the "We Will" Campaign is available at giving.northwestern.edu.