Honors and Awards
Alumna Ginni Rometty to Receive 2019 Edison Achievement Award
Rometty will also deliver keynote talk at the awards' April 4 gala
Northwestern University trustee and alumna Virginia M. (Ginni) Rometty ('79), chairman, president, and CEO of IBM, will receive the 2019 Edison Achievement Award.
Often called "the Oscars of innovation," the Edison Awards include 16 annual awards that honor excellence in new product design and technological innovation. The Edison Achievement Award recognizes one leader each year for making a significant and lasting contribution to the world of innovation. Past recipients include Steve Jobs and Elon Musk.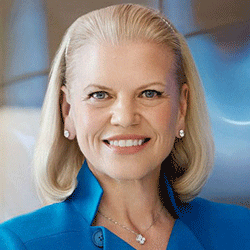 Rometty will accept the achievement award at the Edison Awards Gala on Thursday, April 4 in New York City. At 3 p.m., she will deliver the event's keynote address at the Meet the Innovators Forum.
Rometty graduated from Northwestern's McCormick School of Engineering in 1979 with a bachelor's degree in computer science. After joining IBM as a systems engineer in 1981, she rose through the ranks to become the first woman to head the company. Since becoming CEO in 2012, she has reinvented IBM as a leader in artificial intelligence, blockchain, cybersecurity, and quantum technologies.
Northwestern conferred an honorary doctorate to Rometty in 2015, when she delivered the main address at the University's 157th commencement ceremony. During her address, she stressed to her new fellow alumni that they were graduating at "a truly unique moment in history" — the dawn of a new era of computing made possible by big data.
"What steam was to the 18th century, electricity to the 19th, and hydrocarbons to the 20th, data will be to the 21st century," Rometty said. "That's why I call data a new natural resource."
Four game-changing products developed at IBM are also finalists for the 2019 Edison Awards for best new products. Under Rometty's lead, the company has three products in the applied technology category and one in the living, working, and learning environments category.
"The finalists illustrate that innovation never sleeps," said Frank Bonafilia, executive director of the Edison Awards. "With ingenuity and technological advancements, the dreams of yesterday will become the reality of today to make an impact on how we live, work, and play."
This isn't the first time Northwestern has been represented at the Edison Awards. Walter Herbst, director of the Master of Product Design and Development Management program, has received five Edison Awards for industrial design.