Events
McCormick Seniors Celebrate 157th Commencement
Dean Julio M. Ottino and John "Mac" McQuown delivered remarks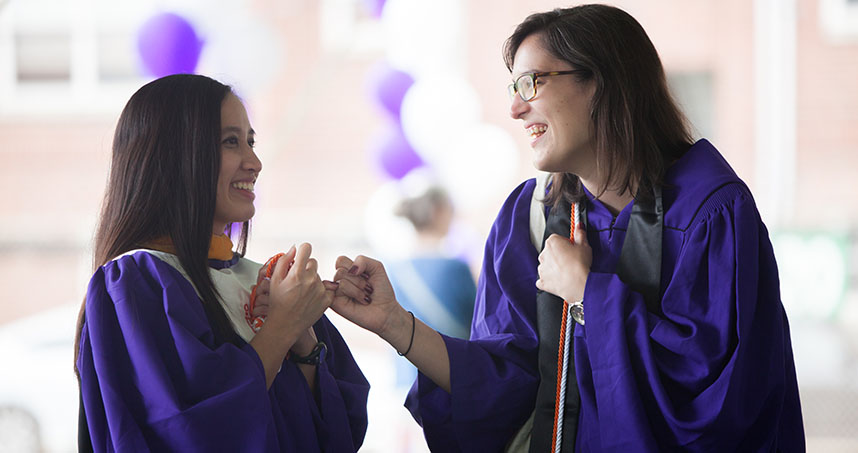 Northwestern University's McCormick School of Engineering celebrated the graduation of its undergraduate Class of 2015 on June 19 and 20 as part of the University's 157th Commencement.
Graduates from across campus gathered at Ryan Field on Friday morning for the main Commencement exercises, which featured a speech by McCormick alumna Virginia Rometty ('79), the first woman to head IBM. Rometty told graduates about the important life lessons she learned throughout her career, including that "growth and comfort never coexist." She asked the graduates to think of a time when they learned the most.
"Probably when you have felt at risk," said Rometty, who serves as IBM's CEO, president, and chairman. "So when you start to feel anxious, that's actually a good sign. You're learning."
At McCormick, undergraduate celebrations continued Saturday morning with the School's Undergraduate Convocation, held in the Welsh-Ryan Arena. McCormick Dean Julio M. Ottino told the graduates that though earning an engineering degree is tough, they triumphed.
"Many of you had significant struggles, perhaps for the first time in your life," he said. "If anything, you showed us that you are resilient. As first-year students, I hope you learned that your first idea is most likely not the best one. You learnt from failures. When you fell you got up and moved on. You continued to move forward."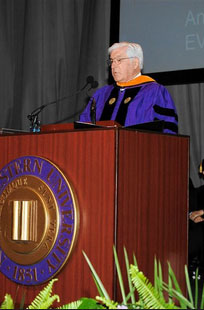 John "Mac" McQuown ('57), co-founder of Diversified Credit Investments, served as the convocation's keynote speaker. He urged graduates to use their technology and engineering knowledge to combat environmental pollution caused by humans. As a member of the Scripps Institutions of Oceanography's director's advisory council, McQuown believes there are great entrepreneurial opportunities in finding ways to use technology to dispose of human waste.
"I'm exceptionally exhilarated by the prospects for the future," he said. "That is because we humans will determine the relationship between human waste and the environment, and we will invent the means to resolve its degradation."
McQuown said that transforming the environment will be propelled by two key factors: necessity and sufficiency. For our survival, it is necessary to reduce the human impact on the environment. The scale of technological innovation needed to positively transform the environment will be enormous.
"These two determinants are the technological and economic challenges — the stakes," McQuown said. "You will provide the innovation. So go forward with energy, imagination, creativity, and determination. It will be an enormously rewarding experience from the perspective of your individual personal satisfaction and indeed economic gain for human cultures, while depolluting the environment." Read McQuown's full remarks here.
At the ceremony, three teams of students were awarded the Mickelson Prize. The competition recognizes the seniors who submit the best insightful, innovative, and/or creative project.
Winning the prize were:
First prize: Jeff Kahn, Jacob Kelter, and Leon Sasson for "Technology Mediated Sleep Improvement System"
Second prize: Andrew Beir, Daniel Ranti, Shuyao Shi, and Eric Yang for "Low-Cost Sample Preprocessor for Tuberculosis Diagnosis"
Third prize: Taylor Hanken for "Chicago Marathon Data Visualization System"
Four additional undergraduate prizes were awarded. The Ovid W. Eshbach Award was presented to Edward Lee Pang; the McCormick Alumni Award was presented to Jason Michael Arnold; the Harold B. Gotaas Undergraduate Research Award was presented to Leanne M. Friedrich; and the Co-op of the Year Award was presented to Ryan Henry DeBlock.
Ottino ended the commencement ceremony by extending his admiration to the graduates and welcoming them to the McCormick family. He also encouraged them to stay in touch.
"It has been an honor and a pleasure to participate in your education and observe your maturation as individuals and scholars," he said. "The very best to all of you, and I hope to have the pleasure of seeing you at many McCormick and Northwestern functions over the coming years."