Announcements
Wei Chen Named Chair of the Department of Mechanical Engineering
Chen will succeed Kevin Lynch on September 1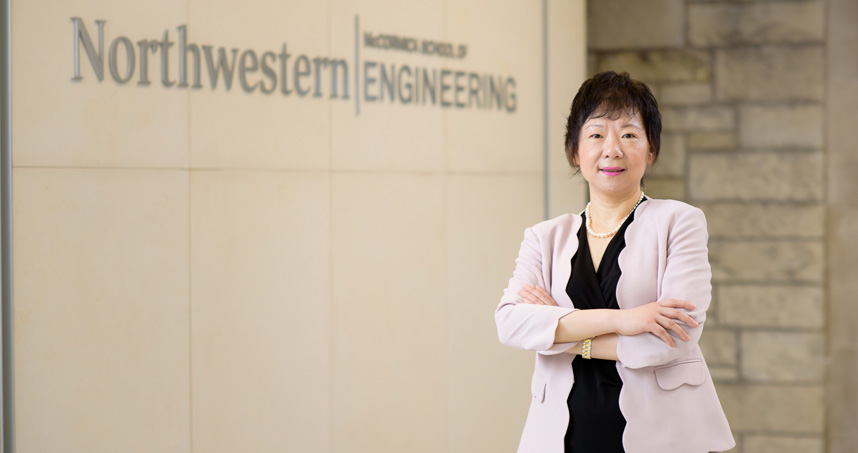 Northwestern Engineering's Wei Chen has been named chair of the Department of Mechanical Engineering. Effective September 1, Chen, Wilson-Cook Professor in Engineering Design and professor of mechanical engineering, will succeed current chair Kevin Lynch.
"I am delighted that Wei has accepted the invitation to serve as chair of Mechanical Engineering. I am confident that she will continue to move the department into an even stronger leadership position within the field," said Julio M. Ottino, dean of the McCormick School of Engineering. "I want to thank Kevin for his leadership and dedication as chair of mechanical engineering. The Department is better because of Kevin's service."
Lynch, professor of mechanical engineering, will continue to teach and lead research in robotics. He will also continue his role as director of Northwestern Engineering's Center for Robotics and Biosystems, which launched last fall.
"I'm humbled to follow in the footsteps of several outstanding mechanical engineering chairs, including, most recently, Kevin Lynch," Chen said. "I am deeply honored by the confidence my colleagues have placed in me."
Chen, who was elected to the National Academy of Engineering (NAE) in 2019, joined Northwestern in 2003. She has made important contributions to design under uncertainty and decision-based design. Her research aims to develop rational and computationally efficient design methods based on data science, optimization, statistical inference, and decision analysis for use in engineering design and manufacturing problems. Her research currently involves close collaborations with experts in mechanics, manufacturing, industrial engineering, materials science and engineering, social science, and computer science.
"The mechanical engineering department is fortunate to have many established and rising leaders in their respective fields," Chen said. "I feel privileged to serve and will foster new cross-disciplinary collaborations both within the department and with other units at Northwestern."
Chen serves as director of the Integrated DEsign Automation Laboratory (IDEAL), the Predictive Science & Engineering Design (PSED) cluster program, and is codirector of the Segal Design Institute's Design Cluster. In addition to her membership in NAE, her honors include being named fellow of the American Society of Mechanical Engineers (ASME), an ASME Design Automation Award, the National Science Foundation Faculty Early Career Award, and the Pi Tau Sigma Gold Medal Achievement Award. She serves as editor-in-chief of the Journal of Mechanical Design and is president of the International Society for Structural and Multidisciplinary Optimization.
Read more about Wei Chen in Northwestern Engineering Magazine.