Education
Adapting the Lab Experience for Remote Learning
Instructors leverage smartphones, apps to teach biomedical experiments from home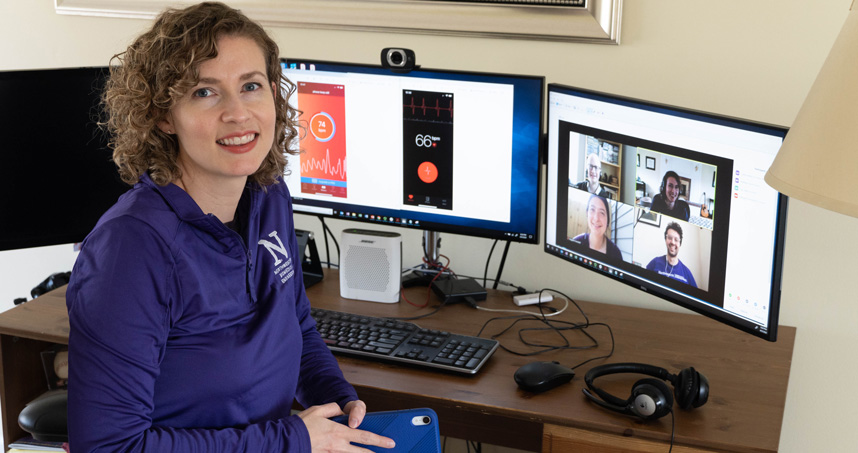 Separated from Northwestern Engineering's Department of Biomedical Engineering's teaching and research labs, instructors leading the department's experimental lab courses this spring faced with several challenges in adapting their curriculum for a remote learning environment.
How can students conduct hands-on experiments from their homes, without cutting-edge equipment found on campus? How can instructors foster a collaborative, interactive learning environment? What tools are available to support this distributed form of learning?
"We quickly realized that none of our planned experiments were going to be possible," said David O'Neill, Michael Jaharis Director of Experiential Learning and assistant professor of instruction in biomedical engineering. "We took a step back and thought, 'What could we do that would allow us to conduct biomedical experiments?'"
Smartphone-supported physiological experiments
In BME 207: BME Lab: Experimental Design, which teaches first- and second-year undergraduates the foundational skills of biomedical research, instructors looked to accessible technology like smartphones and apps to create guided remote labs which support the course's three learning objectives: sensor characterization, measurement uncertainty, and experimental design.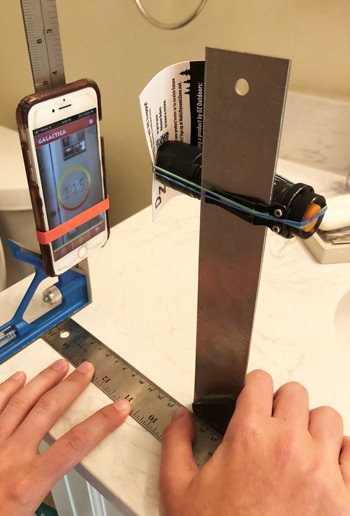 In one lab, students will study how the light sensor on a smartphone's camera, when paired with the free Physics Toolbox app, can be used to measure distance. They will use this understanding to characterize the light sensor — a testing process to verify accuracy across different operating conditions, then apply that knowledge to study how common heart rate apps use a phone's camera to measure heart rate. By placing their finger on the camera, students can record their own heart rate through the app and use it as the basis to craft experimental hypotheses and collect data.
"Students will use video to teach their classmates about their experiment, then the class will collect and analyze data from those experiments," said Casey Ankeny, assistant professor of instruction in biomedical engineering. "We wanted these experiments to be biomedically relevant to motivate students to expand their statistical analysis skillset."
Ankeny is coteaching Experimental Design this quarter with Matthew Tresch, professor of biomedical engineering and of physical medicine and rehabilitation.
Quantitative experiments with nScope
For BME 307: Quantitative Experimentation and Design, which targets more experienced biomedical engineering students, O'Neill wanted to develop longer, more complicated projects that build on their existing skills in electronics and systems analysis.
To do this, O'Neill is providing each student with additional electronics components to use with their nScope, a USB-powered oscilloscope, function generator, and power supply developed by Northwestern Engineering's Michael Peshkin and Nick Marchuk that turns any laptop into an electronics workbench. When used in conjunction with an off-the-shelf blood pressure cuff — available at most drug stores — students will design their own experiments, conduct signal processing and signal identification, make measurements like systolic and diastolic blood pressure, and share their data with classmates.
"The exercises we are doing — interpreting spec sheets, designing original instrumentation, building and debugging experimental set-ups — are at their essence what would happen were they in a full laboratory class," said O'Neill, who is coteaching the course with Laleh Rad, assistant professor of biomedical engineering and of radiology. "You don't need to buy a box with buttons that does it all for you. To pick out the data from pieces of kit you've built is quite cool."
Rad, meanwhile, will offer a module where students use an online cognitive tool to test their own hypotheses about mental fitness.
"Many studies have shown how physical fitness or diet improves cognitive ability and classroom performance," Rad said. "It will be interesting for students to test on their classmates their own hypotheses related to this topic while learning about the components of good study design."
An opportunity for distributed experimentation
While the instructors were careful to incorporate opportunities to foster team building and collaboration into their courses, including regular ice breakers and work group charters, the format provides students with the unique opportunity to experience every aspect of experimentation and analysis on their own.
"There is a tendency during lab courses for students to take on specialized roles," Tresch said. "This format promotes distributed experimentation, where students learn each of the components, while still emphasizing collaboration."
"That's proven to be a strength of remote learning that we don't have in the classroom," Ankeny added. "I want to figure out how to make that happen once we're back together on campus."