McCormick in the Media
Young Alumni Featured Among Forbes 2020 Class of "30 Under 30"
The annual list celebrates top entrepreneurs under 30 years old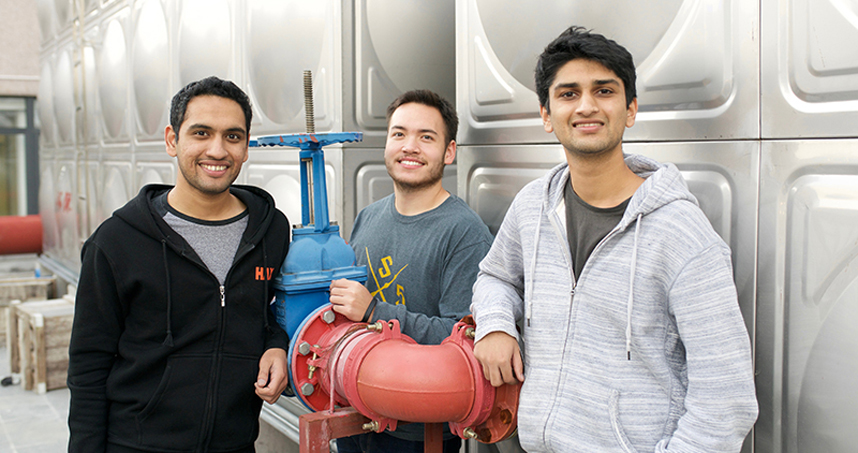 Northwestern Engineering alumni Akshat Thirani ('16) Philip House ('15), Sachin Lal ('16), and James Hedrick (PhD '19) are among Forbes' "30 Under 30" class of 2020. The annual feature highlights 30 top entrepreneurs across multiple industry categories who are all under 30 years old.
The alumni appeared in the 30 Under 30: Manufacturing and Industry category as entrepreneurs and changemakers who are "creating the products, methods and materials of tomorrow." Members of this year's class were vetted by a judging panel of industry experts, which included Northwestern Engineering alumna Alicia Boler Davis ('91), vice president of global customer fulfillment at Amazon.
Thirani, House, and Lal, who all graduated with degrees in computer science, were recognized as a group for cofounding Amper Technologies, a startup that uses non-invasive sensors to help manufacturers digitize and improve operations using Internet of Things analytics software. Backed by more than $3.5 million in funding, the company's platform is designed to manage machine states directly from energy usage in manufacturing facilities.
The team originally launched Amper as a home energy monitoring company in 2016 while students in the NUvention: Energy course offered through the Farley Center for Entrepreneurship and Innovation and the Institute for Sustainability and Energy at Northwestern (ISEN). Recognizing opportunities in the manufacturing space, they pivoted the company's focus to applying its technology to machining and injection molding shops.
Hedrick, who graduated from Northwestern Engineering with a PhD in chemical and biological engineering, was recognized for his role as CEO and cofounder of Azul 3D, a company commercializing 3D printing technology capable of competing with the speed, strength, and economy of scale of traditional injection molding. The company's guiding technology, HARP (high-area rapid printing), enables a record-breaking throughput that can manufacture on demand one large part at a time or many small parts at once.
Azul 3D was spun out of the lab of Chad Mirkin, George B. Rathmann Professor of Chemistry in Northwestern's Weinberg College of Arts and Sciences and professor of biomedical engineering, materials science and engineering, and chemical and biological engineering at Northwestern Engineering. Mirkin serves as the company's chairman of the board.