Events
ETOPiA Presents Free Film Screening about Claude Shannon
"The Bit Player," spotlighting Claude Shannon, will be screened November 1-3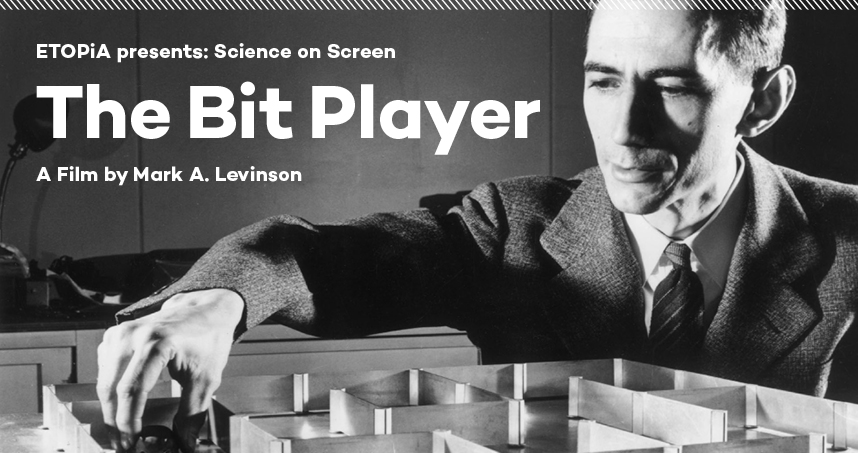 The Bit Player, a film spotlighting the overlooked genius of Claude Shannon whose work laid the foundation for the information age, will be the focus of Northwestern Engineering's ETOPiA program this year, which celebrates science and engineering.
As part of "Science on Screen," the film will be presented November 1 and 2 at 7:30 p.m. and November 3 at 2 p.m. in the Technological Institute's Ryan Family Auditorium on the Evanston campus. Admission is free, but tickets are required to guarantee seating.
Each film screening will be followed by a discussion led by Northwestern Engineering faculty including Randy Berry, chair and John A. Dever Professor of Electrical and Computer Engineering, Dongning Guo, professor of electrical and computer engineering, Mike Honig, professor of electrical and computer engineering, Prem Kumar, professor of electrical and computer engineering, and Thrasos Pappas, professor of electrical and computer engineering. Daniel Costello, professor emeritus of Notre Dame University, has met Shannon and will participate on the November 3 panel. Gaurav Sharma of the University of Rochester will also participate.
The Bit Player (2018) tells the story of Shannon, who revolutionized the world in 1948 when he introduced the notion of a "bit." His ideas ripple through nearly every aspect of modern life, influencing such diverse fields as communication, computing, cryptography, neuroscience, artificial intelligence, cosmology, linguistics, and genetics. But when interviewed in the 1980s, Shannon was more interested in showing off the gadgets he'd constructed — juggling robots, a Rubik's Cube solving machine, a wearable computer to win at roulette, a unicycle without pedals, a flame-throwing trumpet — than rehashing the past. The film by Mark A. Levinson, who also directed of the award-winning film Particle Fever, tells Shannon's story through contemporary interviews, archival film, animation, and dialogue drawn from interviews conducted with Shannon himself. ETOPiA screened Particle Fever in 2017.
The film is all the more relevant given Google's recent announcement of "quantum supremacy" – quickly solving a problem with a quantum computer that would take many years with today's standard computers and mainframes.
"As far as we have advanced in the information age, one could argue that it all started with Claude Shannon," said Matthew Grayson, professor of electrical and computer engineering, who founded ETOPiA in 2008. 
ETOPiA (Engineering Transdisciplinary Project in the Arts) is an outreach initiative that seeks to inspire cross-disciplinary dialogue about the roles of science and technology in society.
"ETOPiA gives the public an opportunity to reflect on how some of the most important scientific developments came about, and how they impact our own lives in very tangible ways," Grayson said. 
Grayson, Guo, Pedram Khalili, associate professor of electrical and computer engineering, and Ermin Wei, assistant professor of electrical and computer engineering and assistant professor of industrial engineering and management sciences, are producing this year's ETOPiA event.

This fall's ETOPiA event is supported by Northwestern University through the Barry and Mary Ann MacLean Fund for Art and Engineering, the James F. and Mary L. Gibbons Art and Technology Fund, the Materials Research Center NSF-MRSEC grant, the International Institute for Nanotechnology, and the Department of Electrical and Computer Engineering.