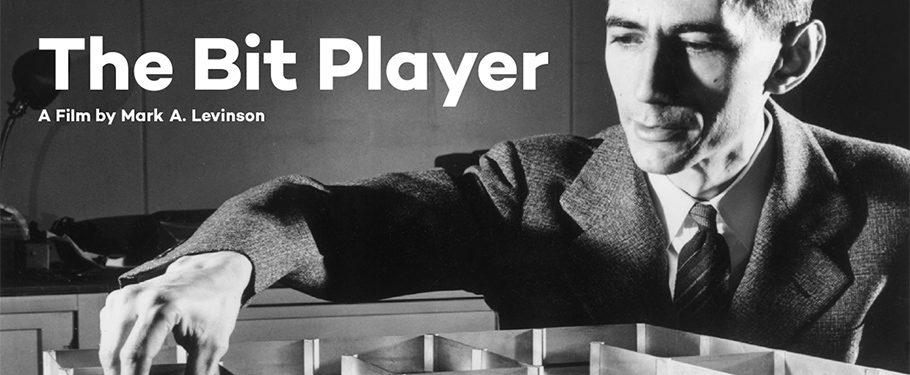 The Bit Player
Northwestern University's ETOPiA (Engineering Transdisciplinary Outreach Project in the Arts) presents Science on Screen:
The Bit Player (2018)
A film by Mark A. Levinson
Director of the award-winning film Particle Fever
Each film screening will be followed by a faculty-led discussion.
In a blockbuster paper in 1948, Claude Shannon introduced the notion of a "bit" and laid the foundation for the information age. His ideas ripple through nearly every aspect of modern life, influencing such diverse fields as communication, computing, cryptography, neuroscience, artificial intelligence, cosmology, linguistics, and genetics. But when interviewed in the 1980s, Shannon was more interested in showing off the gadgets he'd constructed — juggling robots, a Rubik's Cube solving machine, a wearable computer to win at roulette, a unicycle without pedals, a flame-throwing trumpet — than rehashing the past. Mixing contemporary interviews, archival film, animation and dialogue drawn from interviews conducted with Shannon himself, The Bit Player tells the story of an overlooked genius who revolutionized the world, but never lost his childlike curiosity.
---
Performance Dates
Friday, November 1 at 7:30 p.m.
Saturday, November 2 at 7:30 p.m.
Sunday, November 3 at 2 p.m.
---
Reserve Tickets
When you are reserving tickets, please note the following:
Performances are free and open to the public
Reservations are strongly recommended and can be made online by following the link below
The maximum number of tickets that can be purchased online is 10. Groups of more than 10 people can make reservations by phone.
---
Location and Directions
The The Bit Player movie screening will take place at Northwestern University in the Technological Institute's Ryan Family Auditorium, located at 2145 Sheridan Road, Evanston, IL 60208.
Parking
Parking is available in campus lots without a permit after 4 p.m. on weekdays and all day on weekends.
---
Sponsors
This event is supported by Northwestern University through the Barry and Mary Ann MacLean Fund for Art & Engineering, the James F. and Mary L. Gibbons Art and Technology Fund, the Materials Research Center NSF-MRSEC grant, the International Institute for Nanotechnology, and the Department of Electrical and Computer Engineering.


More in this section