Honors and Awards
Rivnay, Katsaggelos, Parrish Collaborations Receive Inaugural Catalyst Award
The teams received $55,000 in seed money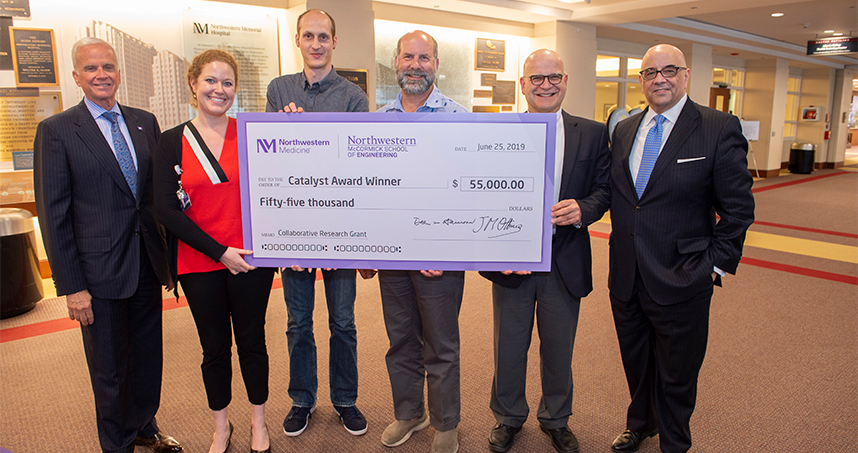 Northwestern Engineering faculty members Jonathan Rivnay, Aggelos K. Katsaggelos, and Todd Parrish are members of teams that were granted $55,000 in seed money through the Collaborative Research Catalyst Awards.
The new grants for this research collaboration opportunity require one principal investigator be an employed physician with Northwestern Medicine and another to be a faculty member of the McCormick School of Engineering.
Rivnay, assistant professor of biomedical engineering, will team with Wellington Hsu, a spine surgeon, and Erin Hsu, a bone biologist, both in the department of Orthopaedic Surgery in the Feinberg School of Medicine, to study a novel technique for bone regeneration and spine fusion. All three are members of the Simpson Querrey Institute.
Rivnay and the Hsu are seeking to avoid harvesting patients' bones or delivering recombinant growth factors by modifying existing clinical materials. Using Rivnay's expertise in conducting polymers, cadaveric bone that has been demineralized to expose the extracellular matrix of human bone will be processed to render the material electrically conductive. Rivnay's group will develop and characterize the electrically active scaffolds, with a goal to direct host stem cells to differentiate into bone cells.
The Hsu Laboratory will perform the 3D stem cell culture studies on Rivnay's composite materials. The researchers hope to demonstrate biocompatibility and robust bone regenerative capacity in order to generate sufficient pilot data to obtain large-scale extramural funding.
Katsaggelos, Joseph Cummings Professor of electrical and computer engineering, and Parrish, professor of radiology at Northwestern's Feinberg School of Medicine and of biomedical engineering at McCormick, will work with S. Kathleen Bandt, a Northwestern Medicine neurosurgeon, and Pierre Besson, a postdoctoral fellow in the department of radiology. The group will apply a novel approach to brain imaging analysis, known as surface-based deep learning, to study Alzheimer's disease. 
The devastating neurologic condition characterized by cognitive decline and deteriorating functional abilities and associated with premature, progressive brain atrophy, affects approximately 10 percent of older adults. Currently, tools are limited to identify Alzheimer's early in the disease when patients suffer from mild cognitive impairment. The group aims to create new tools for diagnosis at the early stage and predict the clinical progression of the disease within six months of diagnosis.