Events
Northwestern Hosts Sixth International Mammalian Synthetic Biology Workshop
More than 150 attendees came to the Evanston campus to discuss engineering living systems to create new therapeutic technologies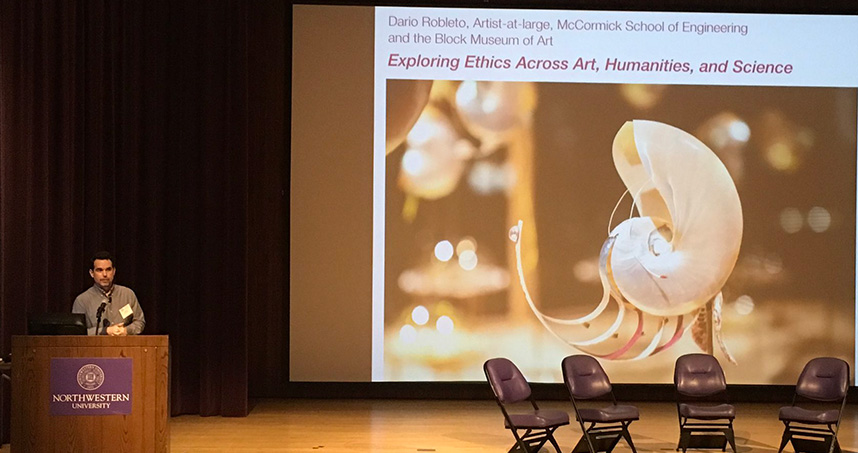 Northwestern University and the Center for Synthetic Biology hosted the Sixth International Mammalian Synthetic Biology Workshop on the Evanston campus from May 18-19, drawing more than 150 attendees from institutions across the globe.
Initiated by Ron Weiss, professor of biomedical engineering at the Massachusetts Institute of Technology (MIT), this workshop has grown into the premier gathering for the community dedicated to harnessing the power of synthetic biology for medical applications. This year's workshop was hosted outside the Boston area for the first time and focused on themes including engineering immunity, building multicellular systems, and emerging technologies.
"This year's discussions highlighted some exciting frontiers for bringing synthetic biology into medicine. We're increasingly able to engineering individual cells to perform custom functions, and key challenges now include trying to figure out how to engineer a collection of cells to cooperate in a desired way," said Josh Leonard, Charles Deering McCormick Professor of Teaching Excellence and Northwestern Engineering associate professor of chemical and biological engineering. "This cooperation could involve cells assembling a tissue, for example to repair wounds or replace organs, or this cooperation could involve using engineered cells to coax the immune system into a state that treats a disease.
"In addition, we learned how synthetic biology can be employed as a powerful research tool to help understand complex processes such as how an embryo grows into an organism," added Leonard, chair of this year's meeting.
The workshop included two plenary talks from Melody Swartz, William B. Ogden Professor in Molecular Engineering at the University of Chicago, and Linda Griffith, SETI Professor of Biological Engineering and Mechanical Engineering at MIT.
The event also included a panel discussing the broader considerations necessary to ensure that synthetic biology technologies are developed in ways that benefit everybody, including perspectives from ethics, anthropology, history, and a presentation by McCormick School of Engineering Artist-at-Large Dario Robleto.
"Mammalian synthetic biology touches on human health and human biology in a way that requires that we engage with questions having to do with societal impact and ethical considerations around which technologies are developed, and that we do so in a way that involves many voices participating at all stages of the process, not just after a capability has been created," Leonard said.
This year's event also launched a new and popular preworkshop tutorial series hosted by faculty including Danielle Tullman-Ercek, associate professor of chemical and biological engineering, and Julius Lucks, associate chair and associate professor of chemical and biological engineering.
"We sought to explore whether there might be an opportunity to lower the barrier for individuals to get involved with this exciting area of research, including both new graduate students and faculty with distinct expertise. The resounding participation and engagement we saw taught us that this innovation could meet a real need," Leonard said.
The event welcomed faculty, postdoctoral students, and graduate students, in addition to industry representatives and journalists.
"We had a strong showing from both synthetic biology enthusiasts and neophytes from across the Chicago area as well as the region," Leonard said. "One of the exciting things about this workshop is that it showed off the deep talent pool and tremendous activity that we are developing at Northwestern, in Chicago, and the Central US more broadly."
Next year's meeting will take place internationally for the first time, hosted by the Centre for Synthetic and Systems Biology at the University of Edinburgh, Scotland.
"The fact that we had such a great and dynamic event speaks to the impact and the global reach of this community, and it reflects our shared commitment to making this important frontier of science and technology advance responsibly and impact people's lives through breakthroughs that benefit human health and build scientific understanding," Leonard said.