Events
Synthetic Biology Experts Gather at Northwestern for Inaugural Workshop
The Central US Synthetic Biology Workshop was held September 6-7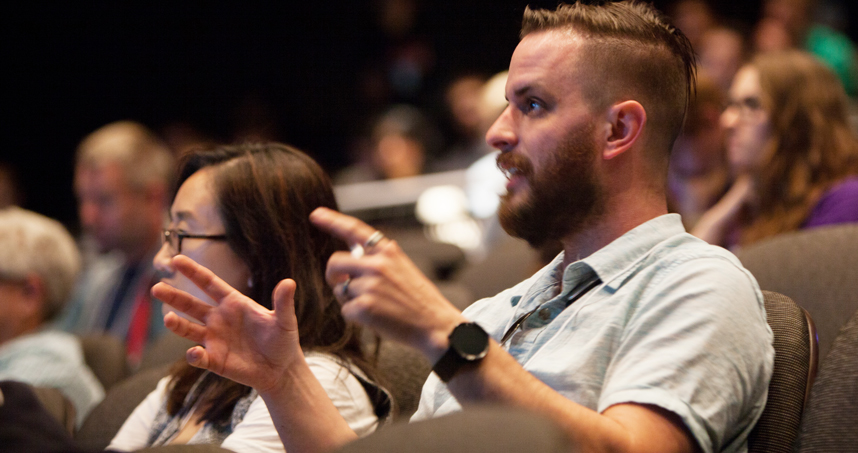 Northwestern welcomed regional synthetic biology leaders from academic and industry earlier this month to share research and promote collaboration within the burgeoning field.
Sponsored by Northwestern's Center for Synthetic Biology, the inaugural Central US Synthetic Biology Workshop took place September 6-7 in the Wirtz Center for Performing Arts on Northwestern's Evanston campus.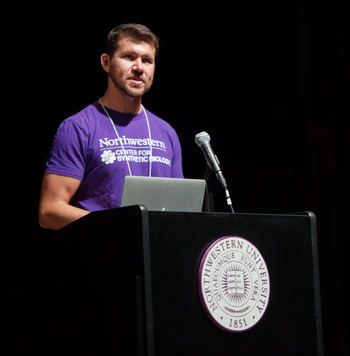 Nearly 200 faculty, researchers, and students attended the two-day workshop from multiple universities, including the University of Wisconsin-Madison, University of Minnesota, University of Michigan, Michigan State University, Iowa State University, Washington University in St. Louis, University of Chicago, University of Illinois Urbana-Champaign, Purdue University, Rice University, and the University of Texas at Austin. Industry professionals from AbbVie, DowDuPont, LanzaTech, and Procter & Gamble also attended.
"We envisioned this workshop as a way to bring together synthetic biology researchers and companies from across the Central US, to identify opportunities for building and leveraging our substantial and growing strength in this area, and to foster a vibrant synthetic biology bioeconomy," said Joshua Leonard, Charles Deering McCormick Professor of Teaching Excellence and associate professor of chemical and biological engineering at the McCormick School of Engineering.
Leonard co-chaired the workshop along with Northwestern Engineering's Michael Jewett, co-director of the Center for Synthetic Biology, and University of Wisconsin-Madison Professors Brian Pfleger and Srivatsan Raman.
The workshop was composed of short lectures showcasing new research and experiences in synthetic biology that could inform growth in the field going forward, with an emphasis on allotting presentation time to graduate students and postdocs. In addition to research talks, the event also featured networking sessions and trainee poster presentations.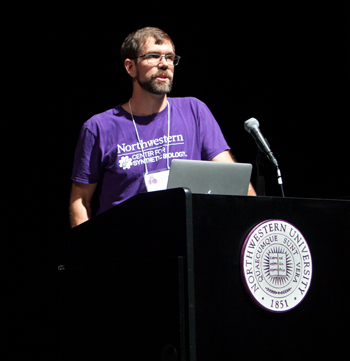 Jeff Gralnick, associate professor in the University of Minnesota's Department of Microbiology and Immunology, delivered the opening keynote presentation on the role of synthetic biology in understanding and engineering environmental bacteria. Northwestern Engineering's Danielle Tullman-Ercek, who recently developed a technique to study self-assembling virus shells with potential applications in drug delivery and biomanufacturing, delivered the workshop's closing keynote.
Jessica Stark, a PhD student in the Jewett lab, was surprised by the wealth of diverse and impactful synthetic biology research underway in the region.
"Even as a native of the Midwest, the workshop was eye-opening," said Stark, who presented on the expanding capabilities of the Jewett lab's cell-free glycoprotein synthesis technology to include the rapid production of antibacterial vaccines. "The event encouraged great dialogue between members of academia and industry that could lead to exciting new collaborative research in the future."
Looking ahead, the group hopes to build on connections made at this year's meeting by expanding collaborations in the coming years. A follow-up workshop to be hosted at the University of Wisconsin-Madison in 2019 is already in the works.
"We received an enthusiastic response to our inaugural workshop and were blown away at the turnout," said Jewett, Charles Deering McCormick Professor of Teaching Excellence and professor of chemical and biological engineering. "Beyond celebrating the best of synthetic biology and helping researchers come together to tackle pressing societal problems in energy and medicine, the event helps to solidify Northwestern's leadership position in the region."