Honors and Awards
Zdeněk P. Bažant Elected to Academy of Athens
The honor is Bažant's 9th European academy membership
Zdeněk P. Bažant, McCormick Institute Professor and Walter P. Murphy Professor of Civil and Environmental Engineering, Mechanical Engineering, and Materials Science and Engineering, has been elected as a foreign member of the renowned Academy of Athens, Greece's national academy.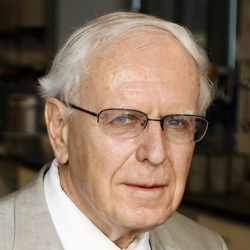 The Academy of Athens comprises 200 leading scholars from Greece and around the world within three research sections devoted to the sciences, fine arts, and ethical and political sciences. Bažant joins the Academy of Athens as one of just six foreign members within its Section of Sciences.
A pioneer in the field of solid mechanics, inelastic behavior, and quasibrittle structural failure, Bažant's research has focused on the mechanics of materials as it relates to structures and structural safety. His studies on the mechanics of fracture, damage and creep, structural stability, finite strain, and failure probability have led to the development of computational models used to assess the safety of quasibrittle structures such as bridges, dams, buildings, aircraft, cars, ships, and nuclear containments.
Bažant's election to the Academy of Athens is the latest honor in his storied career. His other honors include memberships in the National Academy of Sciences, National Academy of Engineering, American Academy of Arts and Sciences, Academia Europaea, and the Austrian, Czech, Italian, and Spanish national academies. In 2015, the American Society of Civil Engineers established the Zdeněk P. Bažant Medal for Failure and Damage Prevention. Last year, he received the Austrian Cross of Honor for Science and Art, First Class, from Austrian President Heinz Fischer.
Inspired by Plato's Academy in Ancient Greece, the Academy of Athens was founded in 1926 and is Greece's most prestigious research body. It seeks to promote the sciences, humanities, and fine arts through scientific research projects and collaborations with international partner organizations.