Honors and Awards
Top Honor for Zdeněk Bažant
Engineer will receive Austrian Cross of Honor from president of Austria May 11
Northwestern University's Zdeněk P. Bažant has been selected to receive the Austrian Cross of Honor for Science and Art, First Class, from the president of Austria. 
Bažant will be honored by President Heinz Fischer at a May 11 ceremony in the Hofburg Palace in Vienna.
The award, established in 1955, is bestowed on both Austrians and non-Austrians who have "distinguished themselves and earned general acclaim through especially superior creative and commendable services in the areas of the sciences or the arts."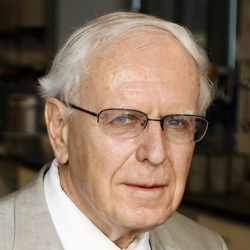 "I am emotionally overwhelmed by this news," said Bažant, a native of Prague. "My grandparents and previous ancestors were all Austrian citizens and had excellent careers as such. Because of defecting from communist Czechoslovakia, I was sentenced in absentia to jail in my native country and could not visit it for more than two decades. During that time, I liked to visit Austria, where it felt almost like home."
Bažant is a McCormick Institute Professor and Walter P. Murphy Professor of Civil and Environmental Engineering, with courtesy appointments in mechanical engineering and materials science and engineering, at the McCormick School of Engineering and Applied Science.
As a world leader in scaling research in solid mechanics, Bažant is perhaps best known for developing widely used models to assess the safety of large quasi-brittle structures, such as bridges, dams, tall buildings, ships, aircraft structures and rock structures.
Throughout his career, Bažant has received numerous awards and honors, including election into the National Academy of Sciences, National Academy of Engineering, American Academy of Arts and Sciences, Royal Society of London, Academia Europaea and the Austrian, Czech, Italian and Spanish national academies, as well as seven honorary doctorates.