Looking Back on a Materials Career
Professor Emeritus Bruce Wessels reflects on his career at Northwestern
Northwestern Engineering's Bruce Wessels retired in 2020 following a storied career in teaching and research. The Walter P. Murphy Professor Emeritus of Materials Science and Engineering made notable contributions to the study of thin films and nanostructures for electronic, magnetic, and photonic materials applications.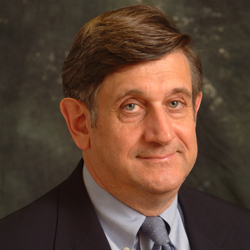 An author of 405 articles and holder of 21 US patents, Wessels was an active and respected member of his field, serving as president of The Metallurgical Society (TMS) and its foundation and being named a fellow of the Optical Society of America, American Physical Society, the American Society of Metals, and TMS. We spoke to him about his career, the differences between working in academia and industry, his research highlights, and the importance of community service in the materials science field.
You came to Northwestern from General Electric, and you've mentored more than 50 doctoral students and post-docs who have become very successful in both academia and industry. What advice do you have for students considering careers in one field versus the other?
Academia requires a broad skill set. One must be a creative force, a grant writer, and a technical manager. In industry, the portfolio is much narrower, and leadership is from above. The day-to-day technical tasks are carried out by the staff. Yet good communication skills are required in both cases.
Your research has covered both synthesis and characterization related to optical, magnetic, and electronic properties of materials. What do you consider to be your highlights?
My highlights include the development of a practical process for light emitting diode fabrication, which I did while at General Electric, and the development of transient current spectroscopy technique for semiconductor defect detection at the part-per-billion level.
I also discovered a technique for preparing high conductivity, epitaxial II-VI compounds suitable for optoelectronic devices through defect control and a method of preparing rare-earth doped epitaxial III-V compounds. I also developed epitaxial ferroelectric thin films for integrated optical applications.
You've served in leadership roles at the departmental, school, and University-level, including as chairman of the General Faculty Committee (GFC), which preceded the current University faculty senate. What insights did these roles provide? Where did you feel you had the most impact?
I have always enjoyed taking on leadership positions, which often require people skills. However, I enjoyed the mix of scholarship and management required in academia. Leadership positions helped broaden my understanding of the technical aspects of the field as well as the human behavioral aspects. Chairmanship of the electrical engineering and computer science department was very challenging since its faculty members have very diverse ways of thinking. Some members are very quantitative, while others are very qualitative.
The chairmanship of the GFC was also very challenging, as most areas of University governance were addressed. During my term, however, we focused on University compliance. The GFC leadership met monthly and quarterly with senior University leaders. We also met with University trustees and discussed a wide range of faculty issues involving governance.
My passion was scholarship and education. I founded the electronic materials effort within the MSE department. This included development of course work and the addition of several excellent faculty members with research interests in electronic materials. I estimate that hundreds of doctoral students were trained in the field of electronic and optical materials at Northwestern.
We enjoyed excellent collegiality within the materials science department and the Materials Research Center. Many of our research programs had multiple principal investigators enabling the formation of interdisciplinary research centers. The NSF Superconductivity Center, for example, was formed early on at Northwestern with faculty from several departments.
You have also been active in many professional societies and editorial boards, including TMS. What is your philosophy on service and what was your experience like being part of these organizations?
I considered community service to be a very important part of my professional experience. Community building is paramount for the success of the discipline. With TMS, I was involved in the reorganization of the Society to better meet the needs of its membership. Many members had their primary interest in electronic materials, but this wasn't reflected in the organization's structure.
As a member of the board of directors, we reorganized the Society's structure to better reflect the interests of the membership. Twenty-five years later this structure is still in place and the Society is thriving! As a result, I was elected TMS president in 1996. For this and other activities I was recognized as one of only six in the TMS Fellows Class of 2016. I was also recently selected as a lifetime member of TMS.
Does a shift to emeritus status provide time for new or different activities? What are you working on now?
My emeritus status allows me to further develop my scholarly interests, which include statistical physics, quantum materials, and their applications.
Do you have any advice for new faculty?
My advice would be to keep their eyes open for new scientific opportunities. Some of their time should be spent on community building, including service to the department and professional societies.