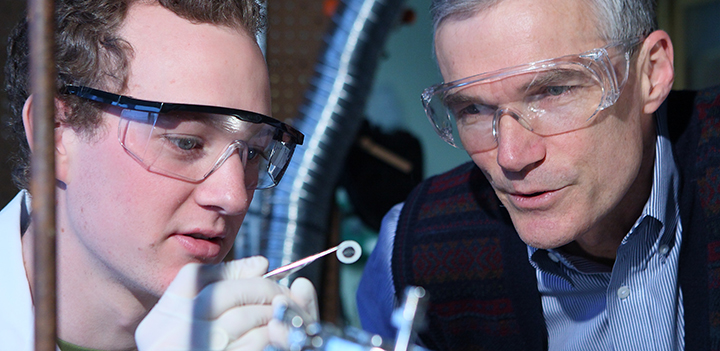 About the Department
The Department of Materials Science and Engineering is recognized throughout the materials community for its outstanding educational and research accomplishments. We help provide students with the tools, experience, and adaptability to prosper—not only as new graduates but also throughout their careers.
Jump to a Section
The bachelor of science in materials science and engineering is accredited by the Engineering Accreditation Commission of ABET and is intended for students who are interested in becoming practicing engineers or continuing on with graduate study.
A minor in materials science is available through the Weinberg College of Arts and Sciences.
The graduate program in material sciences and engineering is one of the highest ranked programs of its kind in the nation. It emphasizes both core materials science and engineering training and interdisciplinary research that's on the cutting edge of the field. Both master's and PhD degrees are offered.
Students enrolled in the PhD program have the option of completing the biotechnology training program, an interdisciplinary, interdepartmental program that provides select graduate students greater research and training opportunities than those available through the individual departments.
PhD students also have the opportunity to collaborate with the Kellogg School of Management to receive a certificate in Management for Scientists and Engineers.
Our faculty members are internationally renowned scholars and researchers that have been honored around the world for pioneering work.
Among the faculty there are several members of US National Academies, award winners of prestigious national awards, and members of industry specific societies.
Our faculty conduct a wide range of experimental and theoretical research in materials science and engineering.
The Department of Materials Science and Engineering hosts several seminars during the academic year, enriching the learning experience our students receive.
More in this section