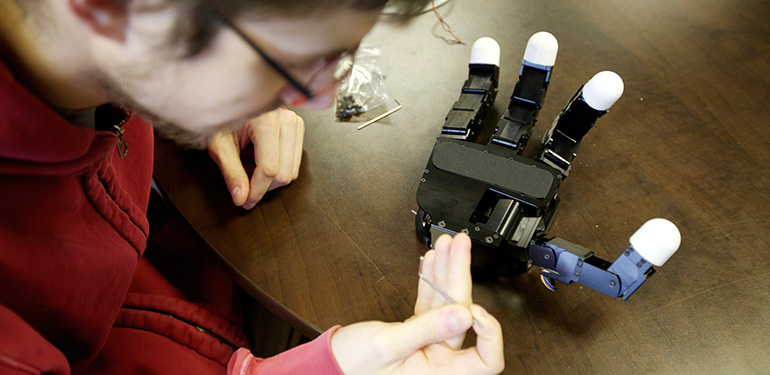 Admissions
Thank you for your interest in the Master of Science in Robotics program. This page contains information about application requirements and deadlines.
Jump to a Section
Application Deadlines
Recommended submission deadline: February 1st
Final deadline: April 30th
Our small cohort fills quickly. For the best chance of admission, submit ALL application materials by the recommended submission deadline. We review all applications received by the recommended deadline and begin sending out admissions decisions shortly thereafter. Applications received after the recommended submission deadline receive consideration only if the cohort is not filled by that time. Please monitor your application portal page (set up during the application process) for updates.
Application Requirements
Before applying to the Master of Science in Robotics program, please read the application requirements detailed below.
Degree
Bachelor's degree in robotics-related field (mechanical engineering, electrical engineering, biomedical engineering, computer science, etc.).
GPA
Minimum of 3.0 overall grade point average on a 4.0 scale for all undergraduate work.
Application Fee
No application fee is currently required to apply to the MSR program.
Transcripts
The online application requires you to submit a scanned, unofficial copy of your transcript from each college or university that you have attended. Please make sure that the scanned transcripts are legible before uploading them. If you are offered a position in the MSR program and you decide to enroll, you will be required to submit one official copy of each transcript. Official transcripts should be sent directly from the issuing institution's registrar either mailed to the address below in sealed, unopened envelopes or emailed to msr@northwestern.edu as official electronic transcripts.
Letters of Recommendation
We require three letters of recommendation that can attest to the quality of the applicant's previous work and the likelihood of success in the program. The applicant must provide email contact information for each reference which will be used to contact the references with online submission instructions.
GRE Scores
GRE scores are desirable but not required; the majority of MSR applicants choose to submit GRE scores. Unofficial scores may be entered in the online application, and scanned copies of the scores may be uploaded. If scans are uploaded, MSR staff will contact ETS and verify your scores (no need to send official scores).
Resume
You must upload a current resume or CV in the online application.
Personal Statement
A short personal statement is required in the online application. The questions of interest are as follows:
Why are you interested in robotics?
What are your career goals?
What skills or abilities do you hope to strengthen in the program?
International Students
All international students, except those having an undergraduate education from an English-speaking institution or English as their first language, must also meet the following requirements:
Academic Records
All academic records from undergraduate institutions (post-secondary/high school) must be translated into English by the issuing institution. If possible, they should provide equivalences between their grading system and a 4.0-scale system. Please do not upload foreign language transcripts unless English language transcripts are impossible to obtain. If you only have access to foreign language transcripts and accept an admissions offer from MSR, the official transcript submissions must be accompanied by an official English translation bearing the original ink signature and seal of the issuing university. Transcripts are submitted in the same fashion as described in the previous section.
English Language Proficiency
We require a minimum TOEFL score of 100 on the internet-based test and 600 on the paper-based test. Copies of your TOEFL scores may be uploaded to the online application; MSR staff will contact ETS for score verification (no need to send official scores). If an applicant is unable to take the TOEFL, we will accept results from the IELTS exam; the minimum score is a 7.0.
For visa issues contact the International Office.
Mailing Address
All documents submitted via mail, such as official transcripts (upon acceptance into MSR), reference letters not submitted online, or IELTS scores, should be sent to the following address:
Master of Science in Robotics
Northwestern University
Tech Institute B224
2145 Sheridan Rd.
Evanston, IL 60208, USA
Questions about Admissions
If you have any questions about the admissions process, please review our frequently asked questions or contact the program at msr@northwestern.edu.
More in this section