Honors and Awards
Chemist and Engineer Dayne Swearer Receives a 2023 Packard Fellowship
Award honors the nation's most innovative, early-career scientists
Northwestern University chemist and engineer Dayne F. Swearer has received a 2023 Packard Fellowship in Science and Engineering from the David and Lucile Packard Foundation. The prestigious fellowship includes an unrestricted grant of $875,000 over five years to pursue innovative and experimental research.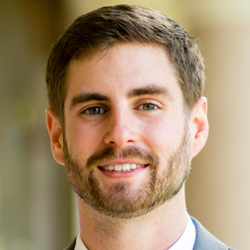 The foundation named Swearer and 19 other junior faculty members as the nation's most innovative early-career scientists and engineers.
"The Packard Fellowship is a transformational opportunity that will allow me and my team to ask tough questions, take big risks and follow the science wherever it leads us," Swearer said.
He is an assistant professor of chemistry in Northwestern's Weinberg College of Arts and Sciences and assistant professor of chemical and biological engineering at Northwestern Engineering.
Swearer and his interdisciplinary research team are working to develop novel catalytic technologies that will help electrify and decarbonize chemical reactions of industrial and societal importance. Their research ranges from the synthesis of new materials and nanostructures to the development of unique observational tools that provide insights into the dynamics of chemical processes as they occur.
One of the unifying themes of Swearer's research over the last decade has been studying the action of nonthermal electronic contributions on chemical reactions. Since joining Northwestern in 2022, he has grown increasingly interested in exploring the electronically and vibrationally excited chemical environments present in low-temperature plasmas.
"As a Packard Fellow, I am looking forward to discovering the chemistry of plasma —often called the fourth state of matter — and its potential to impact reactions that are essential to global sustainability," Swearer said. 
Swearer is an affiliated member of Northwestern's International Institute for Nanotechnology and the Paula M. Trienens Institute for Sustainability and Energy. He also has a joint appointment in the Nanoscience and Technology division at Argonne National Laboratory through the Northwestern-Argonne Institute for Science and Engineering (NAISE).
"From the nanoscale to the scale of the galaxies, the 2023 class of fellows are making ground-breaking discoveries, conducting critical research and leaving a lasting impact on the scientific community and our world," said Jason Burnett, Packard Foundation board chair. "Their ability to strive for the impossible is a contagious source of hope for those looking to change the field of science and will serve as inspiration for the next generation of researchers."
The Packard Fellowships for Science and Engineering, established in 1988, are among the nation's largest nongovernmental fellowships, designed to allow maximum flexibility in how the funding is used. Packard Fellows also gather at an annual meeting to discuss their research, where conversations have led to collaborations across disciplines.
The Packard Fellowships were inspired by David Packard's passion for science and engineering and his commitment to strengthening university-based science and engineering programs in the United States. He recognized that the success of the Hewlett-Packard Company, which he co-founded, was derived in large measure from research and development in university laboratories.