Faculty Directory

Dayne Swearer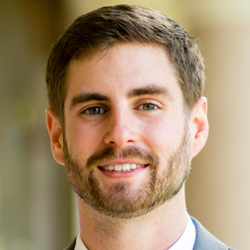 Assistant Professor of Chemical and Biological Engineering
Assistant Professor of Chemistry
Contact
2145 Sheridan Road
Tech
Evanston, IL 60208-3109
Website
---
Selected Publications
Bourgeois, Briley; Carlin, Claire; Angell, Daniel; Swearer, Dayne; Cheng, Wen Hui; Dai, Alan; Yuan, Lin; Dionne, Jennifer, Linking Atomic and Reactor Scale Plasmon Photocatalysis in Acetylene Hydrogenation with Optically Coupled ETEM, Microscopy and microanalysis : the official journal of Microscopy Society of America, Microbeam Analysis Society, Microscopical Society of Canada (2023).
Dela Peña, Top Archie; Ma, Ruijie; Xing, Zengshan; Wei, Qi; Khan, Jafar I.; Young, Ryan Michael; Hai, Yulong; Garcia, Sheena Anne; Zou, Xinhui; Jin, Zijing; Ng, Fai Lun; Yeung, King Lun; Swearer, Dayne F.; Wasielewski, Michael R.; Wang, Jiannong; Cha, Hyojung; Yan, He; Wong, Kam Sing; Li, Gang; Li, Mingjie; Wu, Jiaying, Interface property-functionality interplay suppresses bimolecular recombination facilitating above 18% efficiency organic solar cells embracing simplistic fabrication, Energy and Environmental Science (2023).
Newmeyer, Emma Rose; North, Jamie D.; Swearer, Dayne F., Hot carrier photochemistry on metal nanoparticles, Journal of Applied Physics (2022).
Bayles, Aaron; Tian, Shu; Zhou, Jingyi; Yuan, Lin; Yuan, Yigao; Jacobson, Christian R.; Farr, Corbin; Zhang, Ming; Swearer, Dayne F.; Solti, David; Lou, Minghe; Everitt, Henry O.; Nordlander, Peter; Halas, Naomi J., Al@TiO2Core-Shell Nanoparticles for Plasmonic Photocatalysis, ACS nano (2022).
Swearer, Dayne F.; Bourgeois, Briley B.; Angell, Daniel K.; Dionne, Jennifer A., Advancing Plasmon-Induced Selectivity in Chemical Transformations with Optically Coupled Transmission Electron Microscopy, Accounts of chemical research (2021).